News Archive - October 2010
---
NAP Releases Full-Text Prepublication of "When Weather Matters"
The National Academies Press has just released the prepublication copy of "When Weather Matters: Science and Service to Meet Critical Needs," which is linked from our e-books page and can be downloaded in PDF format. The book is a result of the summer 2009 Board on Atmospheric Sciences and Climate community workshop, and makes recommendations with regard to future American research in the atmospheric sciences.
Subjects covered include:
Global non-hydrostatic coupled modeling
High impact weather prediction
Observations
Probabilistic forecasting
Quantitative precipitation and hydrologic forecasting
Renewable energy
Socioeconomic factors involved with weather prediction and risk assessment
Urban meteorology
Also linked from the library's e-books page, is the National Academies Press site, which holds hundreds of titles in PDF, in seventeen subject areas.
Added 10/5
Search for books, technical reports and theses right from your phone!
WorldCat Mobile now allows users to search and find materials of interest on their mobile phone. Simply type www.worldcat.org/m/ into your web-enabled phone; then enter keywords into the search bar to return a list of relevant results. Each result allows you to email the link or the items citation to yourself or a colleague. To determine if the Boulder Labs Library owns the item follow the steps below: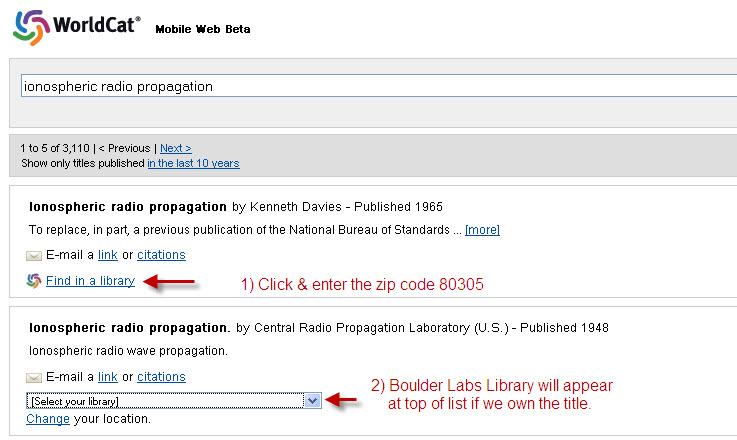 Added 10/12
Open Access Week, October 18-24
This week, October 18-24, marks the fourth annual Open Access week, celebrating and advocating for open access (OA) information worldwide, both as a means for promoting the free availability of research materials online, and to foster collaboration and research partnerships across geographical and cultural boundaries. To that end, there is a website dedicated to OA week , which allows visitors to log in, form discussion groups, post videos, and organize events related to raising awareness about the importance of OA to research communities.
Added 10/18
Say Hello to Diann Cullen - Our New Cataloging Technician!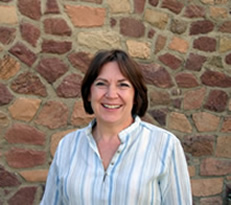 Boulder Labs Library is pleased to welcome Diann Cullen as our cataloging technician. Prior to coming to our library, she worked as a teacher and school librarian in Colorado Springs. She has also worked in the airline and retail industries.
Diann married and raised four sons while living in the U.S., Germany and then Canada. Eventually, the family settled in Colorado Springs, where she worked for Western Pacific Airlines and then returned to teaching. She earned a Master of Arts degree in Educational Media (School Librarian) from the University of Northern Colorado.
Diann's greatest accomplishment is "raising her sons to be good men." In her free time, Diann enjoys reading, needlework, attending philharmonic concerts, volunteering and skiing. Her ideal home would be "with the water to my front and the mountains to my back," so she can swim and ski. Because of her familiarity with Colorado, she "already feels at home."
Added 10/26
Return to General Information
---
---
Note: the Boulder Laboratories Library does not necessarily endorse the views, facts, services or products on any off site links.