Marcus Elmore, NOAA Affiliate
Marketing and Outreach Librarian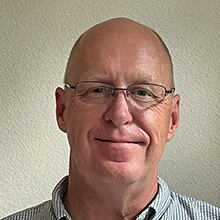 FedWriters in Support of NOAA
Boulder Labs Library 325 Broadway - R/ESRL51 Boulder, Colorado 80305
Email: marcus.elmore@noaa.gov
Marcus Elmore, outreach and marketing librarian, joined the NOAA team in June 2021. Past work includes information governance and records management at the U.S. Food and Drug Administration, and as a librarian at the U.S. Environmental Protection Agency. Marcus also worked for the American Library Association as the project editor of Resources for College Libraries, a collection development tool for undergraduate academic libraries, and taught in the library science department at Southern Connecticut State University.

He earned a Master of Library Science degree from Southern Connecticut State University, and a BA in English literature from the University of Colorado.

When not working, Marcus enjoys reading, cycling, cooking, and spending time with his teenage son.
Back to Staff
---