Stacy Bruss
Library Chief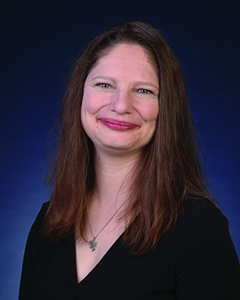 Boulder Labs Library 325 Broadway - R/ESRL5 Boulder, Colorado 80305 Phone: (303) 497-5558 Fax: (303) 497-3890 Email: stacy.bruss@noaa.gov
Stacy has been Library Director since May 2020. She started at BLL in 2018 as the Collection Services Librarian, managing the library's collections and online library management system. Prior to joining the BLL team, she was a reference and innovation librarian at the NIST Research Library in Gaithersburg, MD for nine years. Stacy won a Department of Commerce Bronze Medal for her work in innovation at the Library, among other awards.
Stacy earned her master's degree in information science from the University of Tennessee-Knoxville and has engineering degrees from Texas A&M (master's) and Georgia Tech (bachelor's).
Stacy is an avid volunteer. She is a big science fiction fan, including Star Trek:TNG, Firefly, Dr. Who, and The Hitchhiker's Guide to the Galaxy.
Back to Staff

---