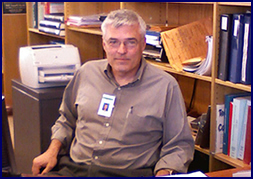 Reference & Interlibrary Loan Librarian
U.S. Department of Commerce
NOAA Office of Atmospheric Research
Boulder Labs Library
325 Broadway - R/ESRL51
Boulder, Colorado 80305
Phone: (303) 497-5569
Fax: (303) 497-3890
Email: Mike.Robinson@noaa.gov
The Library is very excited to announce the addition of Mike Robinson! Mike is our new Reference and Interlibrary Loan Librarian. He arrived from Alpine, Texas, where he worked for 12 years doing interlibrary loan, document delivery, teaching and reference at Sul Ross State University. Mike was previously employed at the Texas Tech University Health Sciences Centers in both Amarillo and Lubbock.
Living in Texas for most of his life, Mike received a B.A. in English from West Texas State University, and an Masters in Library Science (M.L.S.) from the University of North Texas. He served in the Air Force and was stationed for some time in Turkey. Mike has two grown children, a daughter and a son, and enjoys cooking, gardening, and spending time with his two dogs.

Mike will now be the main contact for Interlibrary Loan, Document Delivery and ILLiad. He can be reached at x5569 or email: Mike.Robinson@noaa.gov. Please stop by to welcome him, he spends most days at the Main Library, with two days per week at Branch.
Added 11/12/08
Back to Staff
---