---
Knowledge Base Docs
Google Scholar (GS) Tools & Tricks
Link Boulder Labs Library to GS
You can add Boulder Labs Library (and other libraries) to your GS search. Once linked, GS will let you know if Boulder Labs Library owns a full-text version of the article that you are looking for. Linking Boulder Labs Library to your GS account is easy, all you have to do is go to the GS Menu, then Settings, then Library Links and search "Boulder Labs Library" in the search bar. Once the search icon is clicked, this will automatically add our library to your GS search.
Easy Access to Library Subscriptions in GS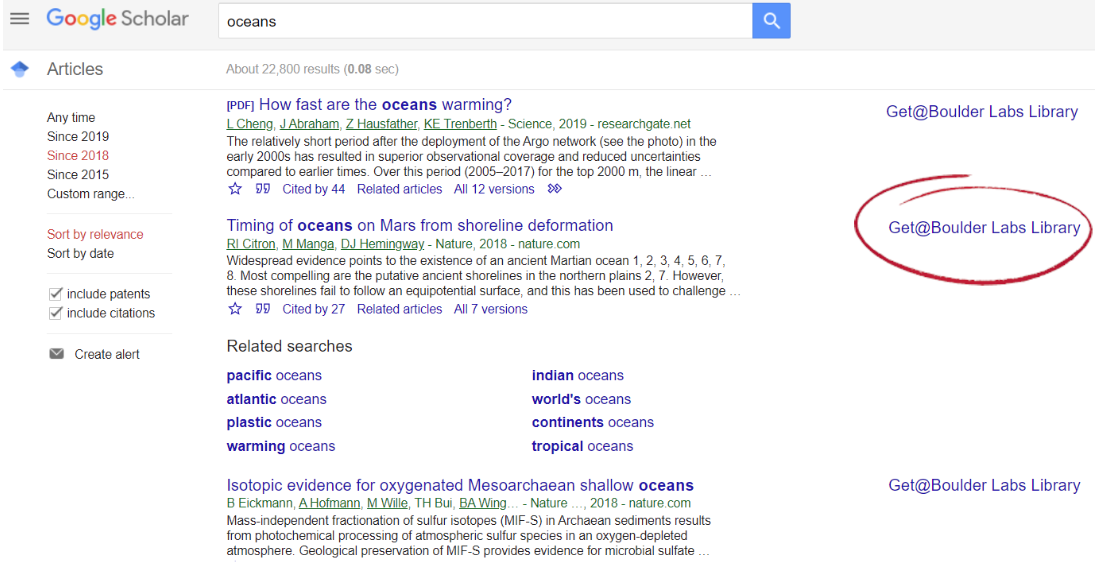 The Library subscribes to many specialized databases to assist with your research, but sometimes GS is the best tool for finding publications. Now the Library has made it easier to access subscribed, full text publications that you find through GS (for NOAA and NTIA staff).
When accessing GS on a desktop computer on campus, you will automatically be shown articles that the Library has subscription access to on the right-hand side (as in the picture - click on it for full-size rendering). Click on that Get@Boulder Labs Library link to go straight to the article.
Quickly Request Interlibrary Loans from GS
Learn how to access articles and books to which the Library does not subscribe via GS.
When in GS and the Get@Boulder Labs Library link does not appear on the right side of the screen, look for a double-arrow underneath the search result. Click on that, and a Get@Boulder Labs Library link should become visible. Once you click on the link, you will be taken to a "Find Full Text" page. This results page displays options for the book or article delivery method (e.g. from another library through interlibrary loan or from the Boulder Labs Library) and format (e.g. electronic or print). (Click on the image for full-size rendering.)
---