---
Knowledge Base Docs
EZproxy
EZproxy is an authentication system that allows you to be recognized by an eResource as a Boulder Labs Library user when off campus. For any secure and subscribed library resource, simply add the following proxy prefix to allow EZproxy to authenticate your access: https://boulderlabslibrary.idm.oclc.org/login?url=
EZproxy BLL

You can also click and drag the button above into your internet browser bookmarks list and use it to access subscribed Boulder Labs Library content. Specifically, open a subscribed Boulder Labs Library resource in your browser, such as Web of Science or AMS and then click on the EZproxy BLL bookmarklet you just created. Depending on the resource, you may be prompted to sign in. You will then notice that the URL in the browser changes and that there may be text on the page that says "Subscribed content from the Boulder Labs Library".
Attention NIST users: If you do not have access to a NIST-furnished computer or cannot authenticate with a PIV card, please contact us to explore publisher/database-specific options. NIST staff, these EZproxy instructions apply to your access of IEEE and Proquest eBooks supplied by Boulder Labs Library only. If you have questions about remote access to other NIST eResources, contact Marilyn White.
EZproxy Login Account
Click for written tutorial
Access proxied eResource thru
library homepage or Google Scholar
(1) EZproxy login screen opens
every day you access proxied resource
(2) Enter library credentials (same
as Tipasa and library catalog)
(3) Your username is everything
before @ in your email address
(3a) Set/reset button if using account
for first time or if forgot password
(3b) Email BoulderLabs.Ref@noaa.gov
for username issues
(3c) Click login button

Accessing EZproxy Resources via Google Scholar
Click for written tutorial
(1) Link library subscriptions
to Google Scholar (GS)
(1a) Open GS in browser
(1b) Click on the hamburger
menu in the upper left corner
(1c) Select Settings
(1d) Click on Library Links in the left menu
(1e) Search for Boulder Labs
Library in search bar
(1f) Check off box next to
autopopulated Boulder Labs Library
(1g) click Save
(2) Access proxied materials from GS
(2a) Search for publication or topic in GS search bar
(2b) Click on the Get@Boulder Labs Library link
Accessing Library Databases via EZproxy
Click for written tutorial
(1) Use the Databases tab in the single search bar
(1a) Go to library homepage
(1b) Search for database you want in Databases tab
(1c) Click on View Now button
(1d) Click on GET@Boulder Labs Library
(1e) Access your article on publisher
website to access article
(2) Go to library Databases webpage
(2a) Select first letter of database you are looking for
(2b) Click on appropriate button
(2c) Conduct your search in the database
(2d) Access your article via Links button
---
Access to Online Library Resources Off-Campus
You can access all library electronic resources (databases, eJournals and eBooks) as long as you are using EZproxy links or are connected to the Boulder Labs network. Please contact your systems administrator for instructions on remotely connecting to the Boulder Labs network. You can always access research resources through Open Access (OA). If you are a NIST staff member, please refer to this cheat sheet for accessing NIST eResources. For eResource access issues, please contact your Boulder Labs Librarians (NOAA and NTIA) and Marilyn White and Julie Jew (NIST).
Off-Campus Access to Research Resources
There are two methods for off-campus access to research resources: Open Access (OA) and Remote Access (RA) through the Library's subscriptions.
Open Access (OA)
OA journal articles are available without subscriptions in every field. These are generally divided in two categories: 1) available directly from the publisher (Gold and Bronze); 2) pre-print or post-print versions in a repository, without the publisher's formatting (Green). There are four methods to find OA content: Library's discovery layer, Web of Science, GS, and Chrome browser extensions.
Library's Discovery Layer: When you do an Everything or Articles search, look in the left-hand panel for Limit To and select Open Access. For best results, also select Boulder Labs Library under Search in these Libraries.
(1)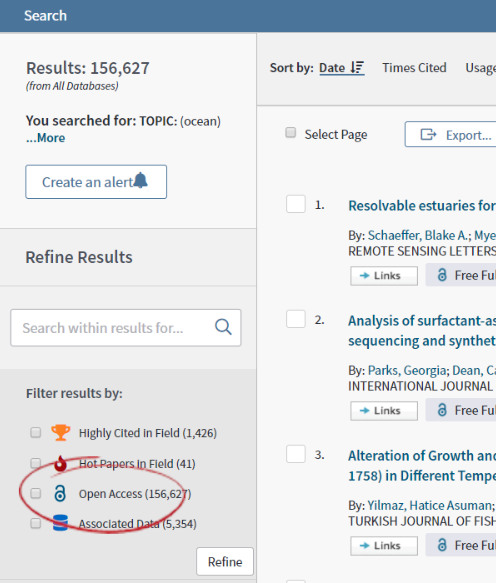 (2)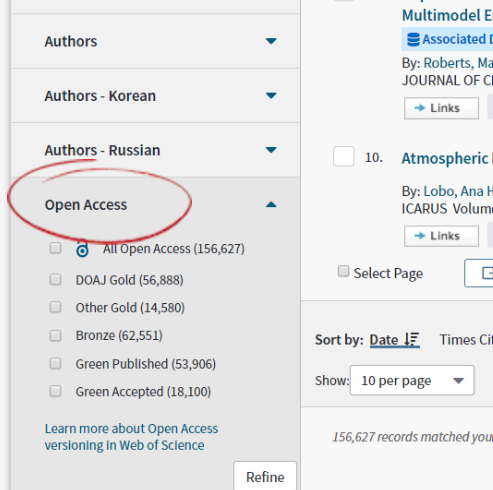 Web of Science: Once you do a search, click on Open Access at the top of the left-hand panel (1). If you want to look only for Gold, Bronze, or Green OA articles, scroll further down in the left-hand panel to find the Open Access filter group (2).
Google Scholar: When you search for articles in GS, it will automatically show OA copies of articles on the right-hand side of the search results. This includes access from agencies, publishers, and self-uploaded articles in repositories like ResearchGate.
Browser Extensions: There are two great Chrome extensions, EndNote Click and Unpaywall, that will show an icon in your browser window when an OA version of the article you're viewing is available.
---