Bibliometrics
What is Bibliometrics?
Bibliometrics is the quantitative analysis of scholarly publication and citation data, intended to provide insight into the value and influence of published research. The Boulder Labs Library offers bibliometrics services for individuals and research groups. Bibliometrics can be used to:
Show the impact of your research
Identify collaborators and experts
Identify emerging research trends
Inform research priorities
Choose the most relevant journals for your publication
Why Use the Library for Your Bibliometrics Analysis?
Librarians are among the pioneers in the field of bibliometrics, beginning with citation analysis in the 1930's for the evaluation of journal collections, and are now taking a leading role in developing the practical and ethical applications of bibliometrics as a measure of research impact
Librarians are already skilled in searching the relevant databases and preparing the data set
Librarians are well-versed in the strengths and shortcomings of different databases, and understand how the choice of database and search strategy can affect your bibliometrics results
Librarians are a neutral third party, interested only in providing accurate, comprehensive answers to your questions
What Types of Analyses are Available?
The Boulder Labs Library can provide bibliometrics analysis at the individual and group level. A typical bibliometrics report will include:
Descriptive indicators, such as: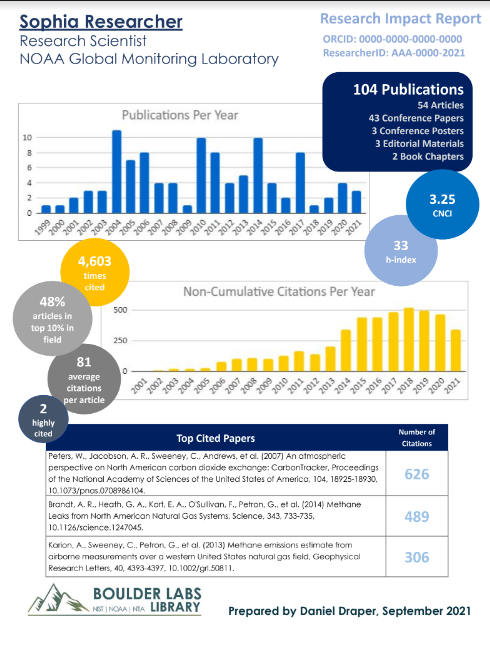 Total publications
Total citations
Median citation rate
Percent of publications cited
Percent of publication in the top 10% by citation rate within category
H-index (can be calculated at the individual or group level)
Evaluative indicators, such as:
Category Normalized Citation Impact (CNCI)
Percentile rankings
Alternative metrics, such as:
Social media reach and reaction
Downloads and views
Click on the image to view a sample research impact report.
Library's Sue Visser featured in GMAC 2019
The Library's Sue Visser presented her poster, "A Bibliometric Analysis of GMD Publications, 2010-2018" at the NOAA ESRL Global Monitoring Annual Conference 2019. The poster explores standard metrics such as citation counts and h-index, contextualized metrics such as Category Normalized Citation Index and Percentile Rank, and the impact of GML (formerly GMD) in a wide variety of disciplines such as public health and political science. The poster also has an accompanying Addendum.
To find out more about our bibliometrics program or to request a bibliometrics report for yourself or your research group, call Sue Visser, ext. 5750, sue.visser@noaa.gov.