---
Library News
---
Library Move the Week of December 10-14!
Due to upcoming changes in the library space, the Library may have periods of limited services and access at both the Main and Branch libraries December 10-14. No, we're not moving the whole library building, but we are excited that long-awaited changes to both the Main and Branch libraries are coming to fruition next week!
To make room for an upcoming collaboration space in the Main library, we will be moving journals frequently used by NOAA staff from the Main library to new shelving space in the Branch library, as well as technical reports from the Annex to the new shelving space. This move will also shift journals in the Branch library so that we have more space for new books.
The move will occur during business hours December 10-14. Due to the move, we may have periods of limited service and access at the two libraries, and there will be delays in responses to e-mailed questions and interlibrary loan requests. Thank you for your patience during this time, and we will respond to your requests as soon as we can. If you have any questions about this move or library services during the move, please contact Joan Segal.
Added 12/03
Top
---
Stay Up-To-Date on the Latest in the Library
There's many ways to keep up-to-date on the resources and services you use from the library. We have weekly announcements in the Boulder Labs Weekly Bulletin and a special monthly newsletter. And now we have a NEW digital display outside the Branch Library (DSRC 2C407) that will be going live in December with even more library info. If you want to review any of our past announcements from these sources, you can find them on this Library News page and if you need help with any of our library news, contact the Boulder Labs Library.
Added 11/19
Top
---
Library Resources are Available 24/7
Did you know that you can still access library resources even when the library staff are away for the holiday or if you're visiting someone in another state? As long as you're connected to the Boulder Labs computer network, you can continue to access and use our library databases and eJournals and eBooks. That's not all--if you need access to the physical libraries after-hours or on weekends while you're on campus, you can! Simply stop by a library and talk to one of the reference librarians to find out how.
Added 11/19
Top
---
Did you Know? Employees Get Free Access to Washington Post
The Boulder Labs Library provides access to a lot of news sources through Lexis-Nexis Advance (see news story from 10/31). However, if you want to casually read the Washington Post, every employee with a .gov e-mail address can simply sign up for an account using that e-mail and enjoy free, unlimited access to this newspaper.
Do you have a tip about other information sources that are useful in your work and are free (or free to feds)? E-mail the Boulder Labs Library.
Added 11/13
Top
---
This is Why You Need a Lexis-Nexis Advance Account
The Lexis-Nexis Advance database contains full text of more than 32,000 sources, including business, news (local through international) and legal sources, including federal legislation and regulations. Sources include newspapers, magazines, trade publications, and scholarly journals. The Lexis-Nexis Advance database can help you:
Find economic and market data
Enumerate impact and mentions in news and trade publications
Receive congressional, legislative, and regulatory alerts
Stay up-to-date on procurement and contracting news
You must have an individual account to access Lexis-Nexis Advance and all users must be employed by DoC. To request an account, e-mail the Boulder Labs Library with your: name, mail code, and e-mail address.
Added 10/31
Top
---
New! Log into EBSCOhost with your Google Account
EBSCOhost provides access to nearly 6,000 full-text journals. When you sign into a personal account on EBSCOhost, you can personalize your search screens, save articles for later, and more. And now, EBSCOhost allow you to log on using your NOAA or personal Google account--that means one less password you have to remember!
To log in using your Google account, begin by clicking "Sign In" from any EBSCOhost screen (see picture below).
On the sign in screen, click the blue "Sign in with Google" button, then select or enter in the Google account you'd like to use. It's that simple! Note: if you have an existing EBSCOhost account, you can't transfer it to one that uses the Google login, you'll be creating a new account.
If you have any questions about using the Google login feature or accessing or using EBSCOhost, contact Stacy Bruss, Collection Services Coordinator Librarian.
Added 10/30
Top
---
What's New in Web of Science?
Web of Science has enhanced their citation report and analyze results features, with better graphics and more options for exploring results. Citation report provides citation statistics for a set of search results, including h-index, total times cited (with and without self-cites), cites per year, and more. A citation report can be created for an individual researcher, a single publication, or a research group.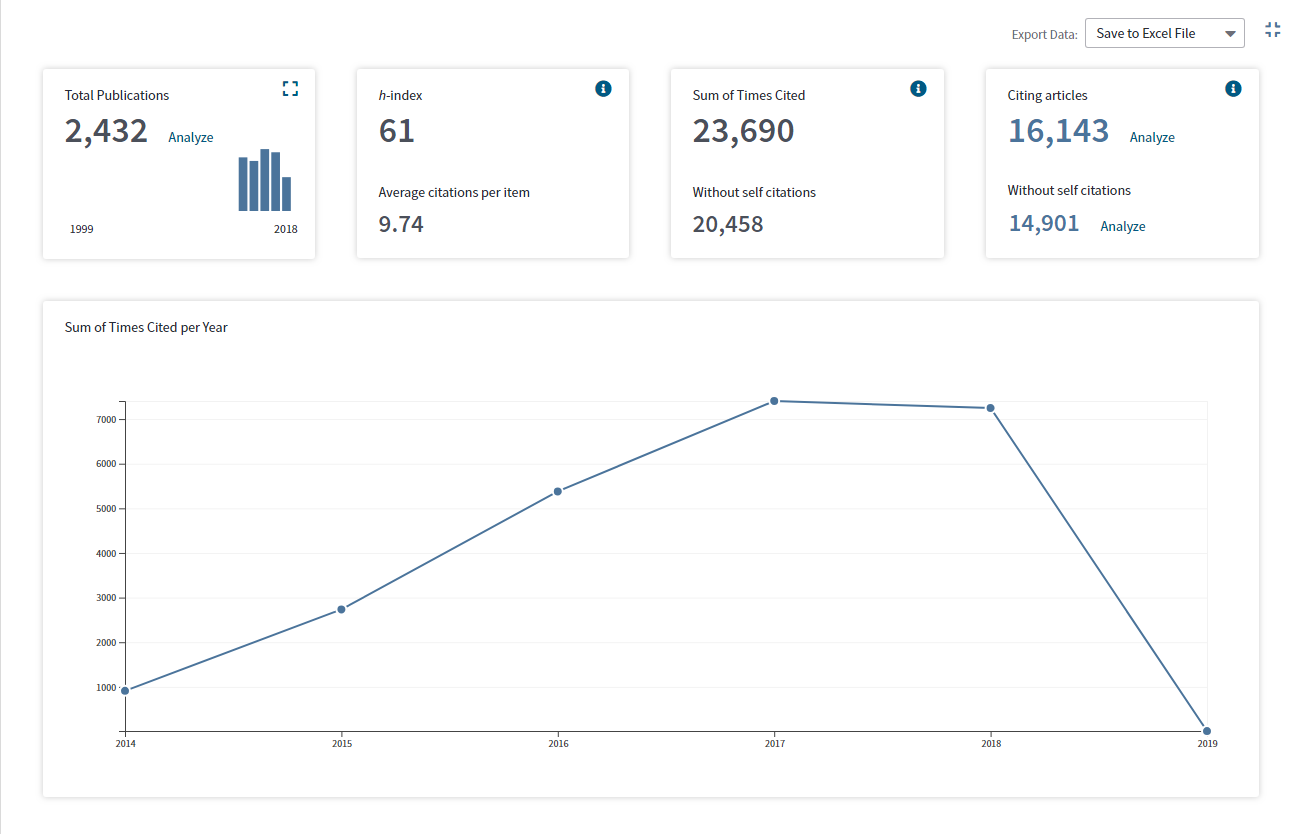 Analyze results helps you answer questions such as:

What researchers in China have cited my work?
In which journals are my publications cited the most?
Which organizations are funding my area of research?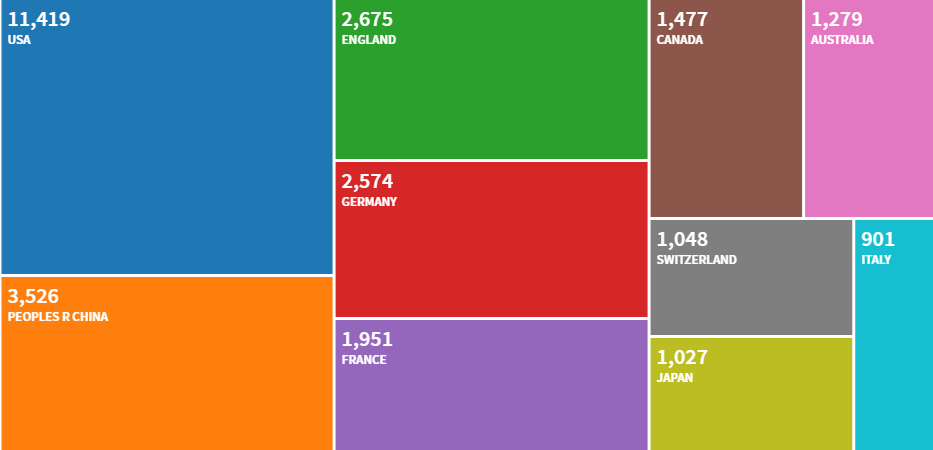 If you have any questions about these new features or about using Web of Science, contact Sue Visser, Public Services Librarian.
Added 10/23
Top
---
How to Request Supplementary Data via ILLiad
Did you know you can request supplemental data as well as articles and books through ILLiad, the library's interlibrary loan service? Go to the Library's homepage and click on the Interlibrary Loan & Document Delivery icon. Log into your ILLiad account. From the Make a Request menu, select Other (Free Text). In the box labeled Citation or Description of Item, enter the phrase "Request for copy of supplementary data that accompanies this article: [enter the citation of the article here]." Also enter any information about the supplementary data, its description, title or its DOI. Following these procedures will help ensure that your request is fulfilled with the supplementary data instead of the article copy.
Added 10/17
Top
---
Congressional Research Reports Now Available for All
The Congressional Research Service (CRS) now makes all of its reports available in full-text at https://crsreports.congress.gov/. These reports can help your research with legislative history, market analyses, and other analytical data. If you need assistance finding specific research data, contact your library liaison.
Added 10/10
Top
---
Find Books Quickly at Boulder Labs Library or Nearby Libraries
Did you know that you can filter library catalog search results to show only books (or electronic resources) available through the Boulder Labs Library? Or, if you want to see if a book is in nearby Boulder- and Denver-area libraries like CU-Boulder, NCAR, Colorado School of Mines, and CU-Denver, we have a brand-new filter?
Use advanced search to start your search with specific libraries
Start at the library catalog advanced search: https://boulderlabslibrary.on.worldcat.org/advancedsearch.

After entering your search terms, scroll all the way down to Library and check the box next to "Boulder Labs Library" or before pressing the blue search button. The retrieved list will show only books available through the library. Alternately, check the box next to "Nearby Libraries" and the retrieved list will show books available at either Boulder Labs Library or nearby libraries.
Use the library filter in the search results
Start your search in the library catalog in the big search box from the library homepage: https://library.bldrdoc.gov

After retrieving your search results, filter your results using the left-hand pane—click the checkbox next to "Boulder Labs Library" or "Nearby Libraries" and the search results will automatically update with only books available at the library(ies) selected.
Talk to your library liaison or stop by the library if you'd like to have a one-on-one session on searching using the library catalog.
Added 10/09
Top
---
JoVE, the Video Journal, Has Even More Content
JoVE, a cutting-edge video methods journal, has exciting news—it now releases an average of 150 video journal articles each month! It is able to release so much content because it reduced time to publication by 25%, to 6 months.
The library provides subscription access to three of the JoVE collections: chemistry, engineering, and environment. If you'd like to learn more about JoVE, stop by the library or contact your library liaison.
Added 10/09
Top
---
Have You Seen These Books?
Have you seen any of these library books or journal volume? We miss them and don't know where they may be hanging out. If you've seen one, please bring it by either library location—if you're still using the book, we'll be happy to check it out to you.
Radio spectrum conservation; a program of conservation based on present uses and future needs, HE8667 .J65
The Turing omnibus : 61 excursions in computer science, QA76 .D45 1989
Noise and fluctuations: an introduction, QC175 .M2
Physics of the atmosphere, QC861.3 .C33 2014
Journal of Fluid Mechanics, vol. 250 (1993)
Added 10/09
Top
---
Pardon Our Dust
We are in the process of making some changes to both of our Boulder Lab Library locations. Please bear with us as we work to improve our collaborative and individual work spaces for staff. If you have any questions, please contact the Boulder Labs Library Director, Joan Segal.
Added 08/06
Top
---