Library News
Keeping up-to-date on Library resources and services is easy by viewing this page, our monthly eNewsletter, digital displays, the Boulder Labs Weekly Bulletin, and the NOAA Boulder Briefing.
---
Provide Feedback on the NOAA Library Network Survey
As work lives shift and work spaces become more flexible, the NOAA Library network would like your input on what services, resources, and materials you need in order to perform your work. The NOAA Library Network Survey, sponsored by the NOAA Library Advisory Council (NLAC) is your opportunity to tell the NOAA libraries of your wants, needs and opinions for the future. This survey will run from January 6th through January 22nd via Survey Monkey.
---
Request a Customized Research Impact Report as a New Years' Resolution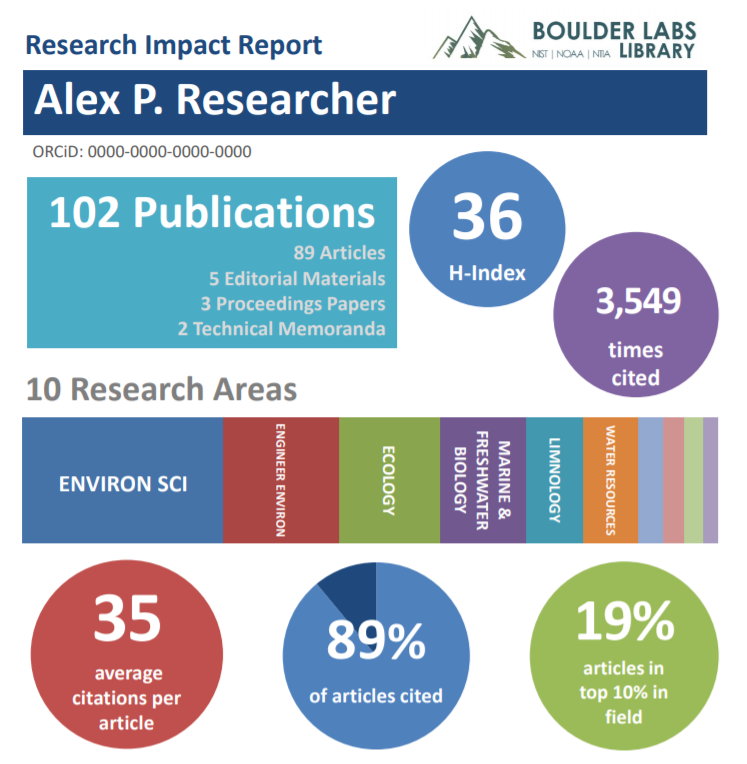 Personalized Research Impact reports are available from the Boulder Labs Library for Boulder researchers. Individual bibliometrics reports help demonstrate your impact using metrics such as citation rate, h-index, and more. This information can help you prepare for reviews, evaluations, or proposals.
The Boulder Labs Library can provide bibliometrics analyses at the individual and group level. View a sample report and get a glimpse of what is possible! Contact Sue Visser, sue.visser@noaa.gov, ext. 5750 to request your personalized report today.
---
Library Staff Member Diann Cullen Retires
After 15 years of service and 10 years at BLL, Diann Cullen has retired. Diann was the library's Cataloging Technician. She has worked in education, the military, the airline industry, and retail.
Diann's greatest accomplishment is "raising her sons to be good men" who she raised while living in the U.S., Germany and Canada. She was a commissioned officer in the Signal Corps. Diann was Airborne qualified and the first female commander of the 160th Signal Group.
---
Dr. Martin Luther King Jr. Day
"Lightning makes no sound until it strikes." -Martin Luther King Jr.
Dr. Martin Luther King, Jr's birthday will be observed on January 18, 2021. You can read his commemorative works and view his other honors authorized by Congress. You can also read Chapter 15 - "Martin Luther King, Jr.: Deep Selflessness" in 10 Virtues of Outstanding Leaders in the library's collection.
---