Library News
Keeping up-to-date on Library resources and services is easy by viewing this page, our monthly eNewsletter, digital displays, the Boulder Labs Weekly Bulletin, and the NOAA Boulder Briefing.
Access Online Resources Beyond Library Subscriptions
Beyond subscriptions to eResources, the library provides ways for you to get access to online resources, including pay-per-view, open access tools, and interlibrary loan.
Pay-per-view (PPV), pre-paid transactions by the library, allow you to immediately access full text for our NOAA and NTIA customers. There is no limitation on PPV use by these customers. PPV is available for publications the library doesn't have subscriptions for through these publishers:
Elsevier (ScienceDirect) PPV: Above the article title, click on Get Access then Download PDF (1). You will need to log in with your Elsevier account (2). Then click on Continue for the PPV use confirmation (3).

Wiley PPV: When you click on the PDF link, a box will appear. Simply click on Use Token to access the PDF. Articles that PPV is available for will have a green Token Access icon above their title.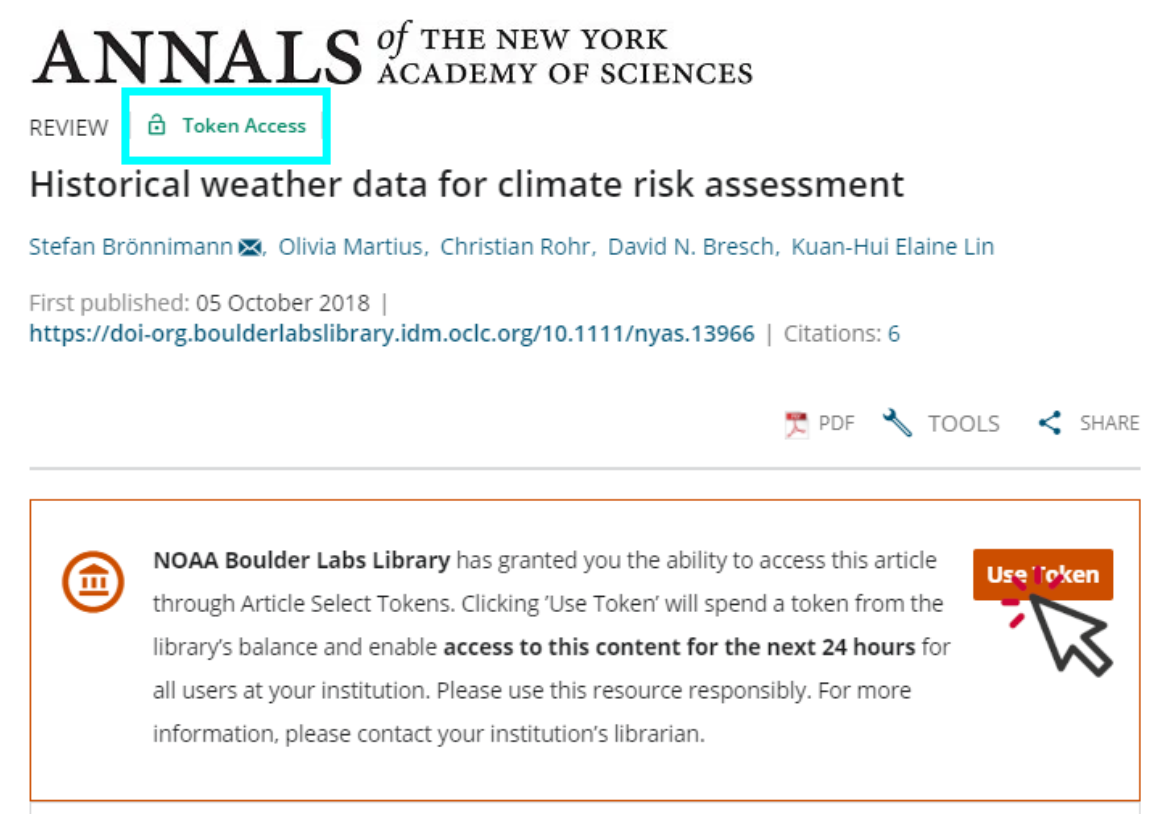 Taylor & Francis: Click on Get Access under the article title (1), then on the new screen that appears, click on View (2).

ACS (American Chemical Society): no special actions needed to redeem
Open Access Tools: There are many Open Access (OA) versions of article available from publishers, ArXiv, university institutional repositories, and more. To easily find these versions, look at the Kopernio Chrome extension or the Unpaywall Chrome/Firefox extension.
Interlibrary Loan: The library can obtain electronic copies of articles, book chapters, and more from other libraries worldwide at no cost to you. Interlibrary Loan requests are typically filled within 2 business days or less.
---
Do Open Access Publications Get More Citations?
You may have read that open access papers (those that are freely available online) are cited at a higher rate than papers behind a paywall – a trend known as the OACA (Open Access Citation Advantage). Some studies have shown that open access papers are more highly cited, but the results vary widely by discipline, type of open access, and other variables. Other studies, using different methodologies, have shown no OACA. The causes and implications of the OACA are the subject of lively debate, and this metric alone should not drive publication decisions. To learn more, ask a librarian for more information or see Davis, 2011; Gaule & Maystre, 2011; or Piwowar, et al., 2018.
Celebrate OA during Open Access Week from October 19-25. The theme this year is "Open with Purpose: Taking Action to Build Structural Equity and Inclusion."
---
Unique Cartogram Using Number of Documents Published
This cartogram created by Juan Pablo Alperin and Rodrigo Costas is a virtual map that visualizes publications proportional by count, as a proportion of GDP, and as a proportion of population. The map uses publication data from Scopus and population and GDP data from the World Bank. The number of U.S. publications shrinks greatly once per capita and GDP are layered. Because the cartogram is powered by d3.js, you can interact with the map by selecting a year (1997, 2007, 2017) and hovering over each country to discover the exact counts. Try it out today!

---
Celebrating June Bacon-Bercy's Birthday on October 23rd
June Bacon-Bercey was an American international expert on weather and aviation who worked for NOAA, NWS and the Atomic Energy Commission. She was the first African-American woman to earn a degree in meteorology and was the first female TV meteorologist. Because of her excellence in television weathercasting, she was awarded the AMS's Seal of Approval in 1972.
---