---
Library News
Keeping up-to-date on Library resources and services is easy by viewing this page, our monthly eNewsletter, digital displays, the Boulder Labs Weekly Bulletin, and the NOAA Boulder Briefing. Past new announcements can be found in our News Archive.
---
Library Open House March 4, 11am - 1pm in Bldg 1, Rm 1200
featuring Regina Avila from NIST Gaithersburg Campus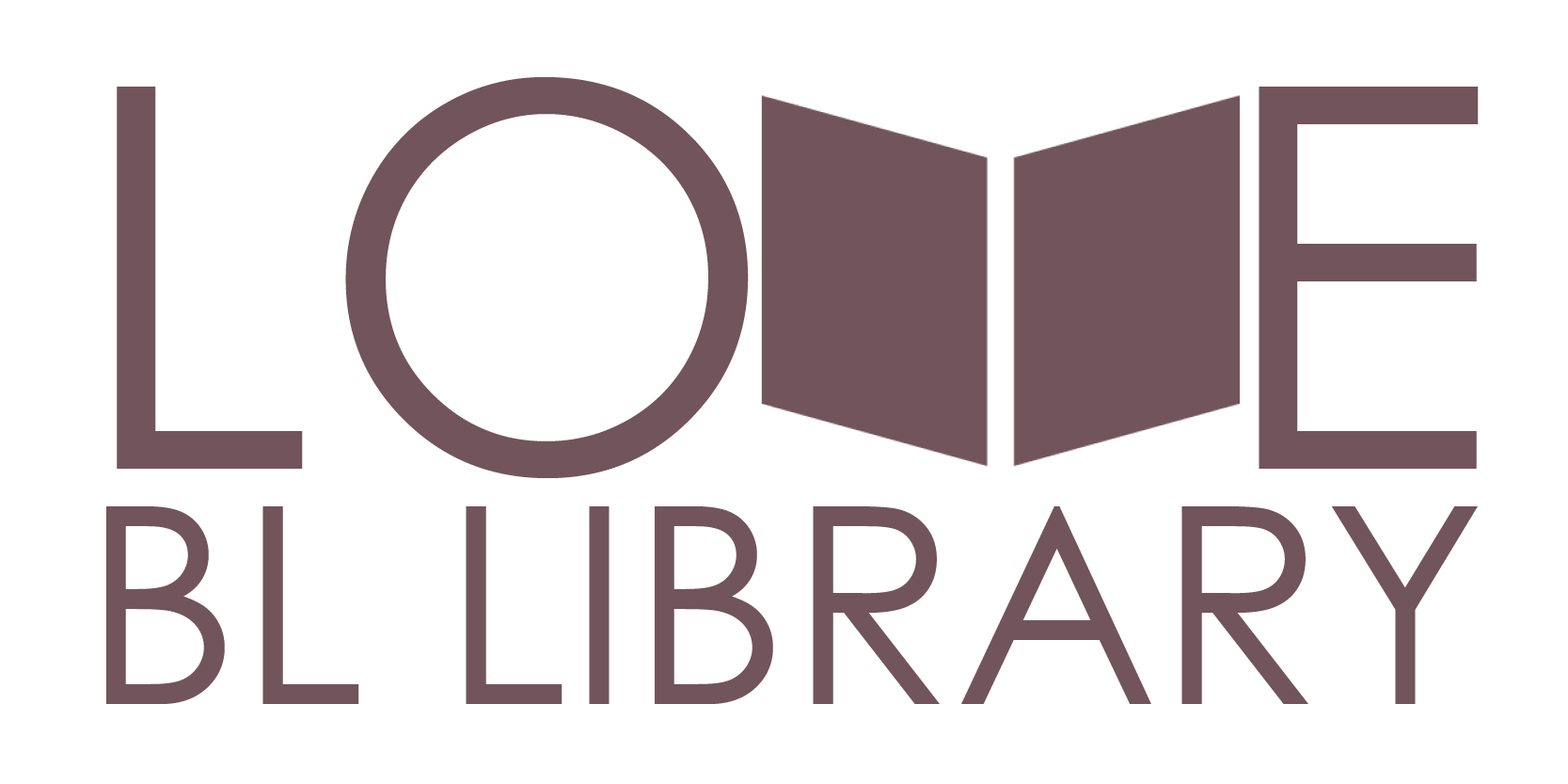 Show your love for the library by attending the March 4th Open House. Stop by the Main Library (Building 1, Rm 1200) between 11am and 1pm to learn all there is to love about the Boulder Labs Library, including bibliometrics report development (discussed by Sue Visser), 3D printing (Anna McDevitt), and meeting and study spaces (Mike Robinson). Also, Librarian Regina Avila will be available to discuss data management and publishing research data sets using MIDAS (NIST application for making data public) and the NIST Public Data Repository. Coffee, sweets, and vendor giveaways will be available while supplies last.
---
Mar 11 Presentation: "ORCiD or Publons: Which One Should You Use?"
Are you confused about whether it's better to use ORCiD or Publons (ResearcherID)? Are you confused about why you should use either one? Join us for a brief presentation on March 11 from 12:30p to 1p at Branch Library (DSRC 2C407) to learn about author identifiers and how they can help you manage your publications list, and increase your impact by making it easy for others to find your work. We'll explain the difference between two widely-used author identifiers, and show you how easy it is to set up your account and get started. No registration required.
---
Did You Miss the Nov 13 Seminar on Predatory Publishing?
On November 13, librarians from NOAA Central Library and Boulder Labs Library spoke about predatory publishing, what it is and how you can protect yourself and NOAA. Please continue reading for an introduction to and resources on predatory publishing.
Predatory publishers charge fees to publish your research, without delivering the professional review and editorial services promised. They use deceptive information (fake editorial boards, false statistics) to appear legitimate, while the real and only objective is profit. This is a risk to all researchers:
Your career and credibility if you publish in a predatory journal
NOAA's scientific integrity if it is associated with a predatory journal through a published article
Inability to publish your research in a legitimate journal after it has been presented in a predatory journal
Research funds, paying publishing fees without receiving legitimate service
Research funds, if your research is stigmatized by being presented in a predatory journal
Improper and incorrect research being presented as peer-reviewed science
This threat is real to NOAA scientists as some have already fallen victim to predatory publishing. Predatory publishing is not limited to journals--predatory conferences are now on the rise.
Resources: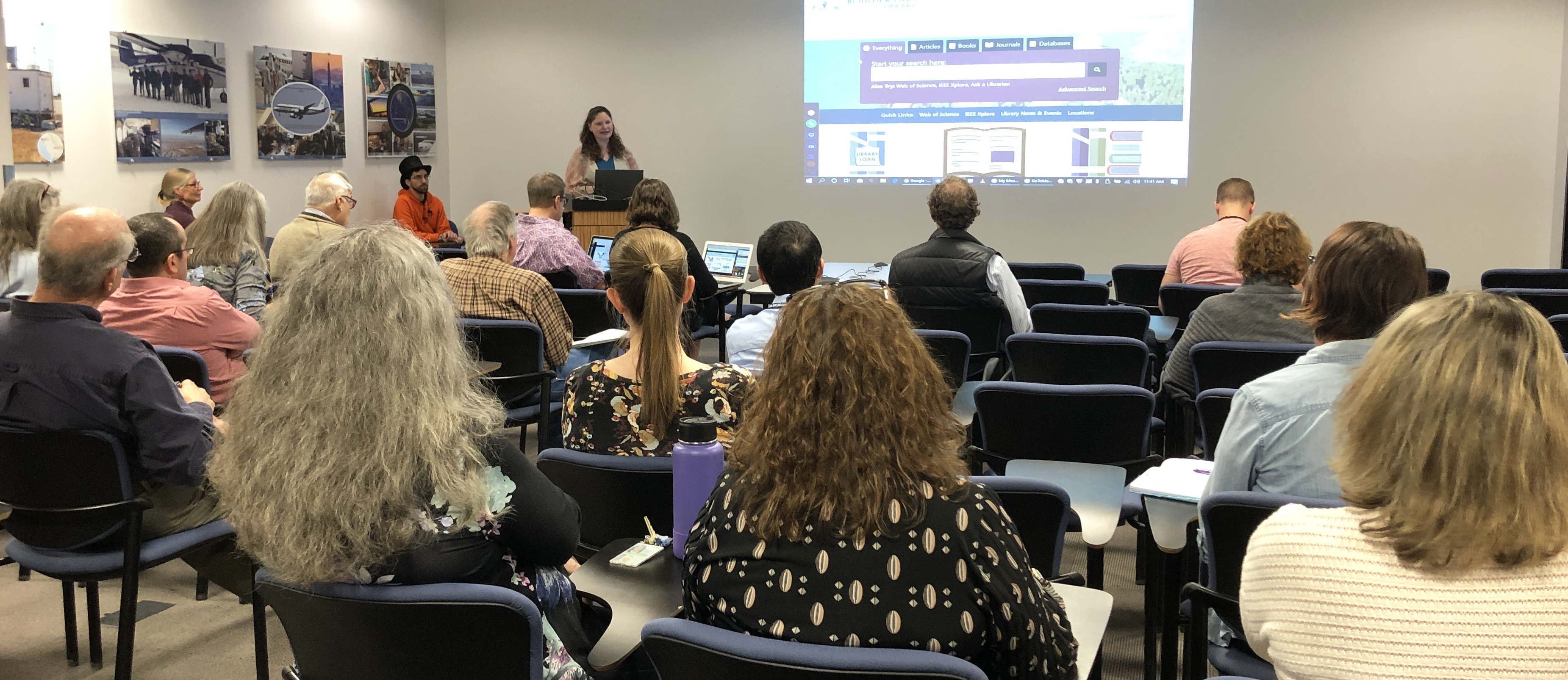 Acting Director & Collection Services Librarian Stacy Bruss presenting during the November 13, 2019 Predatory Publishing Seminar.
---
Quickly Request Interlibrary Loans from Google Scholar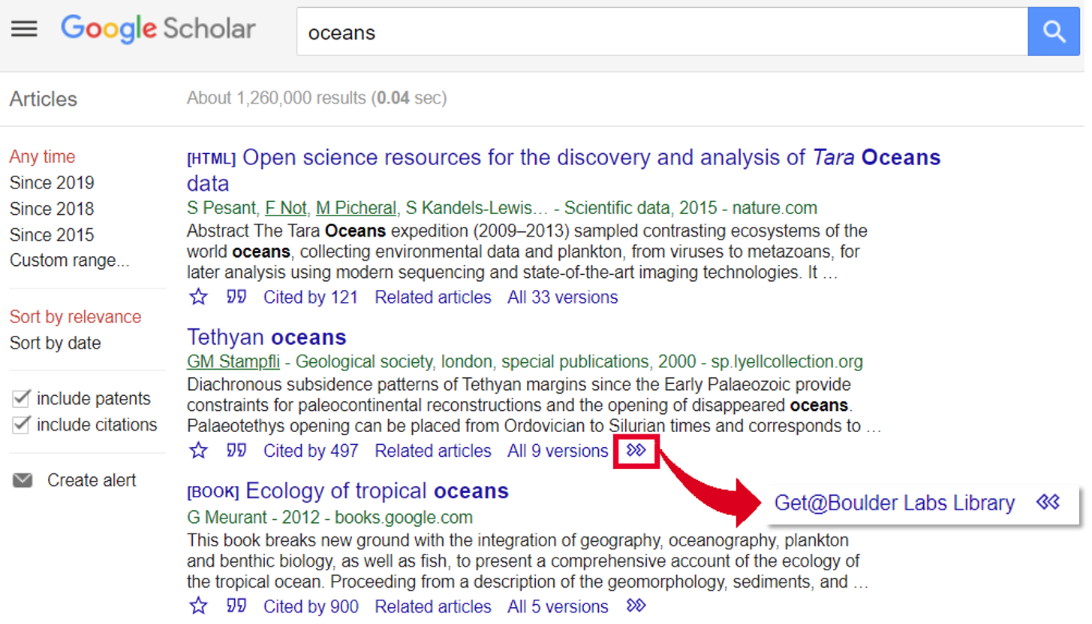 A previous article discussed how Boulder Labs Library full text subscriptions are automatically shown in Google Scholar. Below, you can learn how to access articles and books to which the Library does not subscribe via Google Scholar.
When in Google Scholar and the Get@Boulder Labs Library link does not appear on the right side of the screen, look for a double-arrow underneath the search result. Click on that, and a Get@Boulder Labs Library link should become visible. Once you click on the link, you will be taken to a "Find Full Text" page. This results page displays options for the book or article delivery method (e.g. from another library through interlibrary loan or from the Boulder Labs Library) and format (e.g. electronic or print). Contact the Library if you need assistance.
Click on the image for full-size rendering.
---
New & Improved Meeting & Study Spaces & Reservations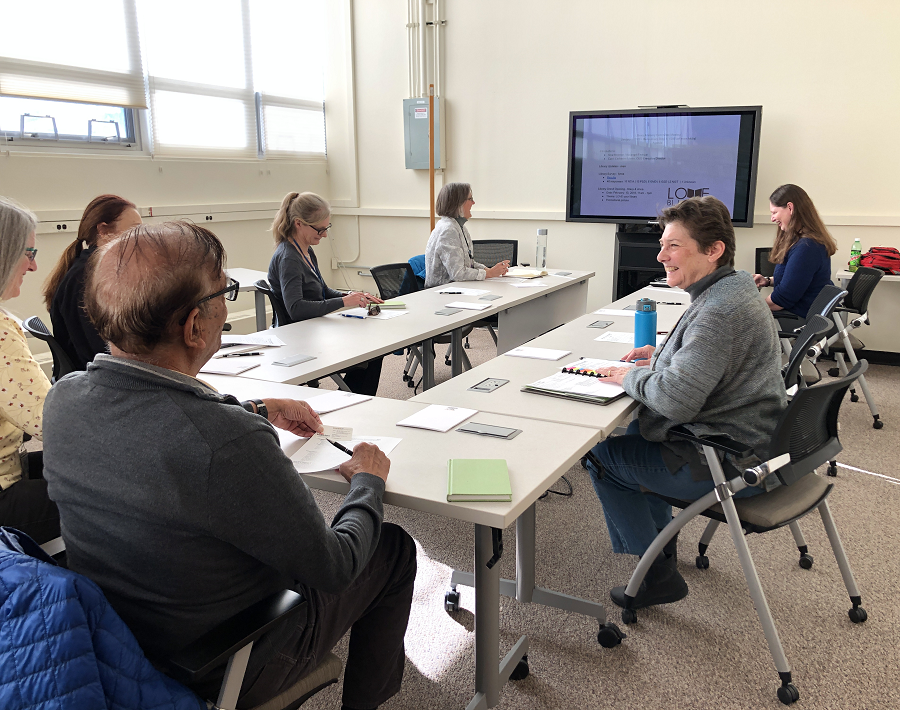 Check out the new quiet meeting and study spaces in DSRC Room 2C407 and in Building 1, Room 1200. The locations are furnished with comfortable chairs and ottomans that allow you to spread out your work or put up your feet. You can also work on your laptop or mobile device with individual power outlets and tables in select seating areas. The seating areas are also great for small, quiet, informal meetings.
Building 1, Room 1200 also has tables and seating for 30 individuals that is great for conferences, large-sized meetings, and collaboration (especially with four large whiteboards). Reserve this space now. Additionally, it can be reserved for SURF and SHIP students to both practice presentations and meet with mentors. For questions about reservations, contact Mike Robinson.
---