---
Library News
Keeping up-to-date on Library resources and services is easy by viewing this page, our monthly eNewsletter, digital displays, the Boulder Labs Weekly Bulletin, and the NOAA Boulder Briefing. Past new announcements can be found in our News Archive.
---
Access to Online Library Resources Off-Campus
You can access all library electronic resources (databases, eJournals and eBooks) as long as you are connected to the Boulder Labs network. Please contact your systems administrator for instructions on remotely connecting to the Boulder Labs network. However, if you have limited access to the network, you can still access research resources through Open Access (OA) and remote access through the Library.
Off-Campus Access to Research Resources
There are three methods for off-campus access to research resources: Open Access (OA), Remote Access (RA) through the Library's subscriptions, and open resources available only during this event.
Open Access (OA)
OA journal articles are available without subscriptions in every field. These are generally divided in two categories: 1) available directly from the publisher (Gold and Bronze); 2) pre-print or post-print versions in a repository, without the publisher's formatting (Green). There are four methods to find OA content: Library's discovery layer, Web of Science, Google Scholar, and Chrome browser extensions.
Library's Discovery Layer: When you do an Everything or Articles search, look in the left-hand panel for Limit To and select Open Access. For best results, also select Boulder Labs Library under Search in these Libraries.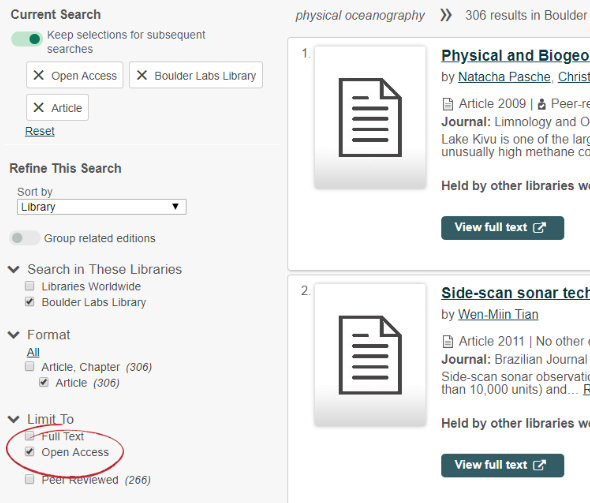 Web of Science: Once you do a search, click on Open Access at the top of the left-hand panel (1). If you want to look only for Gold, Bronze, or Green OA articles, scroll further down in the left-hand panel to find the Open Access filter group (2).
(1)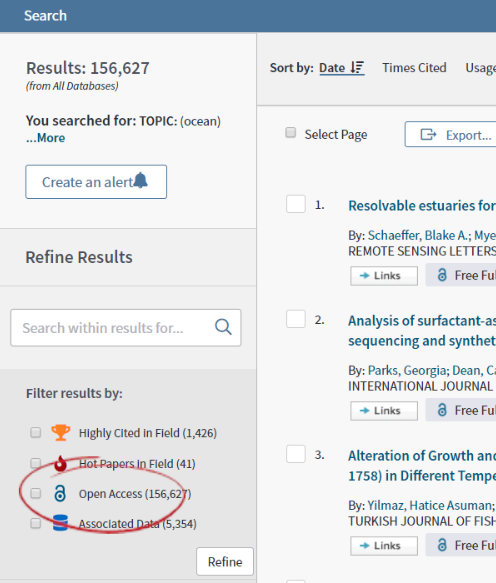 (2)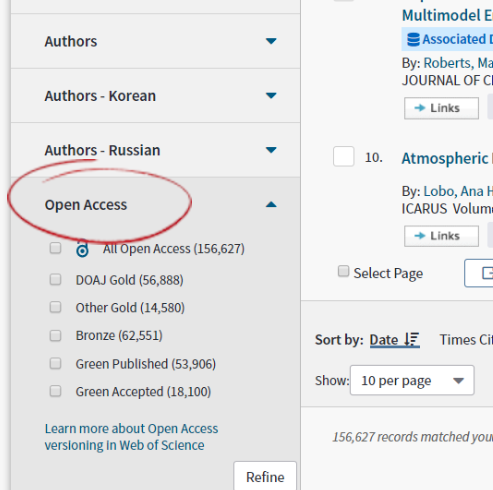 Google Scholar: When you search for articles in Google Scholar, it will automatically show OA copies of articles on the right-hand side of the search results. This includes access from agencies, publishers, and self-uploaded articles in repositories like ResearchGate.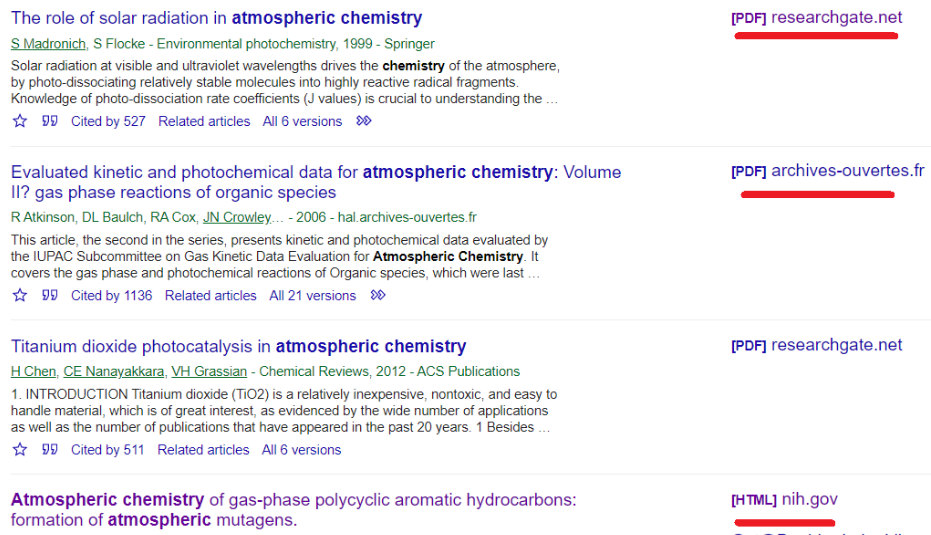 Browser Extensions: There are two great Chrome extensions, Kopernio and Unpaywall, that will show an icon in your browser window when an OA version of the article you're viewing is available.
Remote Access
In addition to OA resources, you can remotely access select library subscriptions. For access to Wiley, Proquest Ebook Central, Web of Science, EBSCO and Springer, create a personal account while on Boulder Labs network to activate remote access for 60-120 days. In order to access Elsevier and Proquest (GeoRef, MGA) databases, contact Stacy Bruss to help set you up with an account. For eResource access issues, please contact your Boulder Labs Librarians (NOAA and NTIA) and Marilyn White and Julie Jew (NIST).
Open Resources
Several publishers have opened their resources to be completely accessible without a subscription during this event. Currently, these include American Meteorological Society, Annual Reviews, and The Royal Society. O'Reilly provides access to its eBooks with a free account, since you can't currently access the O'Reilly books in our print collection.
---
April 8 eResources Presentation: eBooks & Databases Provided by the Library
Join the Google Hangout webinar on Wed, April 8 at 12:30P MT as Stacy Bruss shares the databases, eJournals and eBooks to which you have access on the Boulder Labs network.
---
JoVE: A Unique Journal for Learning and Sharing Technical Knowledge
The Library has a subscription to chemistry, environment, and engineering sections of the Journal of Visualized Experiments (JoVE). This is the only peer-reviewed, indexed journal whose articles consist of high-quality video demonstrations and detailed text protocols, promoting scientific reproducibility and productivity. So check out this journal to learn new protocols and consider sharing your novel techniques with others through this journal.
---
Nov 13, 2019 Predatory Publishing Seminar
On November 13, librarians from NOAA Central Library and Boulder Labs Library spoke about predatory publishing, what it is and how you can protect yourself and NOAA. Please continue reading for an introduction to and resources on predatory publishing.
Predatory publishers charge fees to publish your research, without delivering the professional review and editorial services promised. They use deceptive information (fake editorial boards, false statistics) to appear legitimate, while the real and only objective is profit. This is a risk to all researchers:
Your career and credibility if you publish in a predatory journal
NOAA's scientific integrity if it is associated with a predatory journal through a published article
Inability to publish your research in a legitimate journal after it has been presented in a predatory journal
Research funds, paying publishing fees without receiving legitimate service
Research funds, if your research is stigmatized by being presented in a predatory journal
Improper and incorrect research being presented as peer-reviewed science
This threat is real to NOAA scientists as some have already fallen victim to predatory publishing. Predatory publishing is not limited to journals--predatory conferences are now on the rise.
Resources: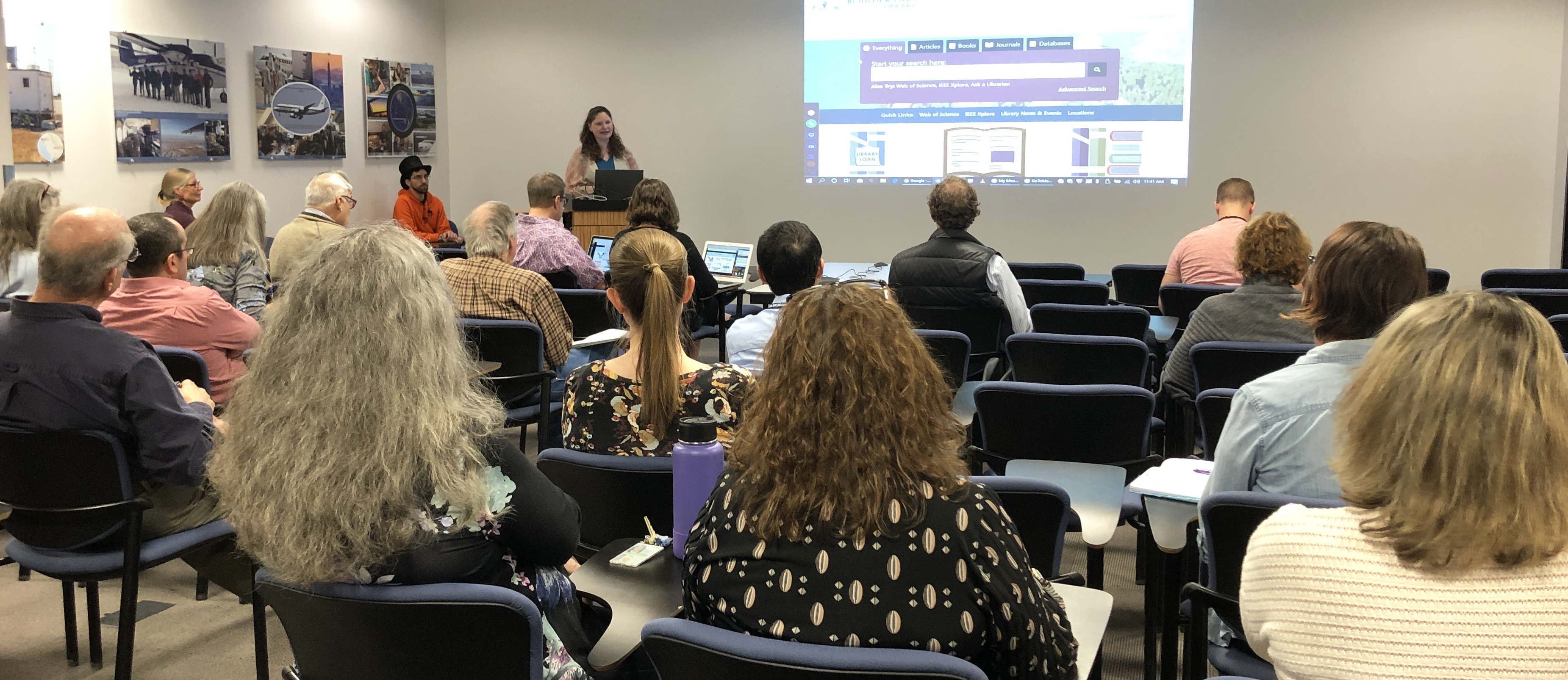 Acting Director & Collection Services Librarian Stacy Bruss presenting during the November 13, 2019 Predatory Publishing Seminar.
---