---
Knowledge Base
View tutorials on the resources provided by your library. For assistance with any of the following tools, contact the Library.
---
Library Video Orientation
Do you have new staff coming on board? Share a virtual library orientation for an overview of library resources and services. Our About page is also a good introductory resource.
---
Access to Online Library Resources Off-Campus
You can access all library electronic resources (databases, eJournals and eBooks) as long as you are using EZproxy links or are connected to the Boulder Labs network. Please contact your systems administrator for instructions on remotely connecting to the Boulder Labs network. You can always access research resources through Open Access (OA). If you are a NIST staff member, please refer to this cheat sheet for accessing NIST eResources. For eResource access issues, please contact your Boulder Labs Librarians (NOAA and NTIA) and Marilyn White and Julie Jew (NIST).
Institutional Repository
NIST and NOAA have institutional repositories (IR) in which agency-authored publications need to be deposited in order to follow federal guidelines to open public access to research.
NOAA
The NOAA IR contains NOAA publications from 1970-present and NOAA-authored articles from 2016-present. Information on what should be submitted to the IR, the process to submit, and any other information is available in the NOAA IR FAQ. Also check out a recent presentation by Jennifer Fagan-Fry, manager of the NOAA IR, on the benefits of submitting one's work to the IR, an overview of the submission process, and how IR staff are available to assist with submission.
NIST
The NIST IR contains NIST publications and NIST-authored articles from 2015-present. Information on the NIST publishing process including depositing in the IR is available on the NIST publishing papers page.
Reference Managers
Are you looking for an easy way to manage your references for your research topics? Our Citation Management Software page has great information about the different reference management softwares available to Boulder Labs Staff.
EZproxy
EZproxy is an authentication system that allows you to be recognized by an eResource as a Boulder Labs Library user when off campus. For any secure and subscribed library resource, simply add the following proxy prefix to allow EZproxy to authenticate your access: https://boulderlabslibrary.idm.oclc.org/login?url=
EZproxy BLL

You can also click and drag the button above into your internet browser bookmarks list and use it to access subscribed Boulder Labs Library content. Specifically, open a subscribed Boulder Labs Library resource in your browser, such as Web of Science or AMS and then click on the EZproxy BLL bookmarklet you just created. Depending on the resource, you may be prompted to sign in. You will then notice that the URL in the browser changes and that there may be text on the page that says "Subscribed content from the Boulder Labs Library".
Attention NIST users: If you do not have access to a NIST-furnished computer or cannot authenticate with a PIV card, please contact us to explore publisher/database-specific options. NIST staff, these EZproxy instructions apply to your access of IEEE and Proquest eBooks supplied by Boulder Labs Library only. If you have questions about remote access to other NIST eResources, contact Marilyn White.
EZproxy Login Account
Click for written tutorial
Access proxied eResource thru
library homepage or Google Scholar
(1) EZproxy login screen opens
every day you access proxied resource
(2) Enter library credentials (same
as Tipasa and library catalog)
(3) Your username is everything
before @ in your email address
(3a) Set/reset button if using account
for first time or if forgot password
(3b) Email BoulderLabs.Ref@noaa.gov
for username issues
(3c) Click login button

Accessing EZproxy Resources via Google Scholar
Click for written tutorial
(1) Link library subscriptions
to Google Scholar (GS)
(1a) Open GS in browser
(1b) Click on the hamburger
menu in the upper left corner
(1c) Select Settings
(1d) Click on Library Links in the left menu
(1e) Search for Boulder Labs
Library in search bar
(1f) Check off box next to
autopopulated Boulder Labs Library
(1g) click Save
(2) Access proxied materials from GS
(2a) Search for publication or topic in GS search bar
(2b) Click on the Get@Boulder Labs Library link
Accessing Library Databases via EZproxy
Click for written tutorial
(1) Use the Databases tab in the single search bar
(1a) Go to library homepage
(1b) Search for database you want in Databases tab
(1c) Click on View Now button
(1d) Click on GET@Boulder Labs Library
(1e) Access your article on publisher
website to access article
(2) Go to library Databases webpage
(2a) Select first letter of database you are looking for
(2b) Click on appropriate button
(2c) Conduct your search in the database
(2d) Access your article via Links button
EndNote Click (formerly Kopernio)
EndNote Click provides legal access to publications, no matter where the publication is located. EndNote Click searches for journal articles and conference papers from subscribed content through EZproxy and Open Access repositories when you view the abstract page of an article. EndNote Click also allows you to save publications to read later off-campus. EndNote Click currently only works with the Boulder Labs Library EZproxy; the NIST Gaithersburg Library is working to implement EZproxy access, but it can be used by NIST staff to find Open Access content.
Kopernio Installation & Setup
Click for written tutorial
(1) Go to kopernio.com
(2) Click on button to install
Kopernio Chrome extension
(3) Sign up page will automatically open
(4) Enter contact info and click button
(5) In next screen, search for
and select Boulder Labs Library
(6) Activate account by following
instructions in signup email
(7) Log in and change settings to following:
(7a) Deselect saving PDFs in
locker in General settings
(7b) Verify Boulder Labs Library
is in Personal Details
(7c) Check box to persist
proxy credentials in browser
(7d) Select Web of Science as search
engine and reference manager
(7e) Do not connect to DropBox
Basic Kopernio Use
Click for written tutorial
(1) You can search Google, Google Scholar,
Web of Science, or library search
(2) Kopernio activates on Web of Science
publisher article page or record
(3) Kopernio requires you to
log into EZproxy every day
(4) Kopernio button in bottom turns green
if article PDF found via library or OA
(5) PDF opens in Kopernio
interface when button's clicked
(6) Download the PDF using either:
(6a) Button in above top-right corner of PDF
(6b) Link in right column
How Kopernio Works
Click for written tutorial
(1) When Kopernio is activated
on publisher's article page
or Web of Science article record,
it scrapes from the DOI and/or title.
It runs a realtime search for full
text PDF from library or OA.
(2) Associating your account with
Boulder Labs Library allows
Kopernio to search library's
EZproxy when off-campus
(3) After clicking Kopernio View PDF button,
you can do following in Kopernio:
(3a) Download PDF
(3b) Save PDF and
bibliographic data in EndNote
(3c) Save PDF in your Kopernio locker
(3d) View article's record in Web of Science
(4) Contact library for Kopernio issues
(4a) Common issue is your
EZproxy credentials caching
improperly in your browser; fix
by clearing browser cookies.
(4b) Other issue is that Kopernio
extension doesn't activate
on non-Web of Science databases
and smaller publishers
Kopernio & Web of Science Integration
Click for written tutorial
Kopernio integrates with
Web of Science in 4 ways
(1) Kopernio activates when viewing
Web of Science article record:
(1a) Article PDFs download without
leaving Web of Science
(2) On a publisher's article page:
(2a) Clicking Kopernio extension shows
article's link and times cited
(3) In Kopernio interface:
Access Web of Science article
record with link at top
(4) On any web page:
(4a) Click Kopernio extension and
search Web of Science topics
Off-Campus Access to Research Resources
There are two methods for off-campus access to research resources: Open Access (OA) and Remote Access (RA) through the Library's subscriptions.
Open Access (OA)
OA journal articles are available without subscriptions in every field. These are generally divided in two categories: 1) available directly from the publisher (Gold and Bronze); 2) pre-print or post-print versions in a repository, without the publisher's formatting (Green). There are four methods to find OA content: Library's discovery layer, Web of Science, GS, and Chrome browser extensions.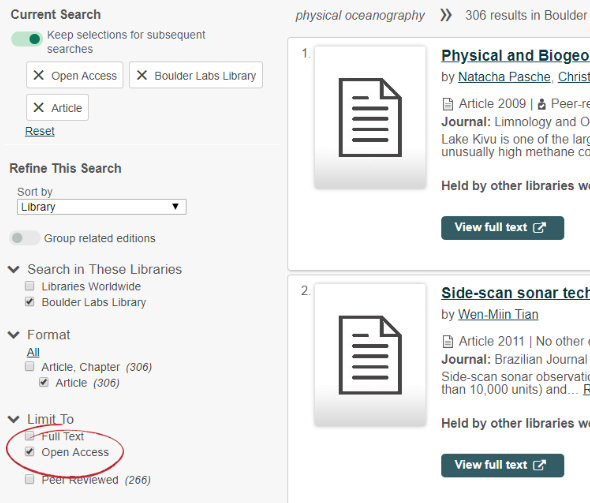 Library's Discovery Layer: When you do an Everything or Articles search, look in the left-hand panel for Limit To and select Open Access. For best results, also select Boulder Labs Library under Search in these Libraries.
(1)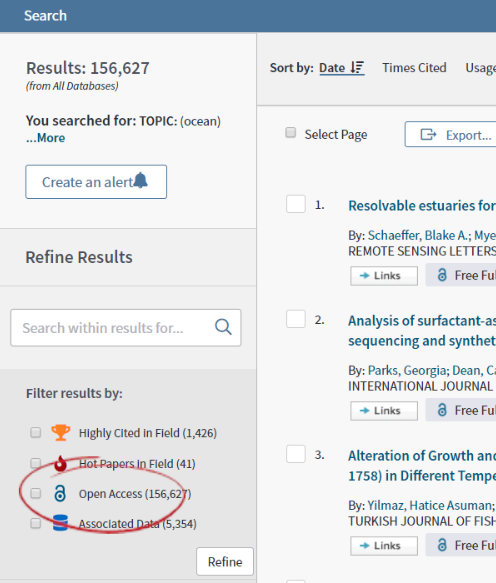 (2)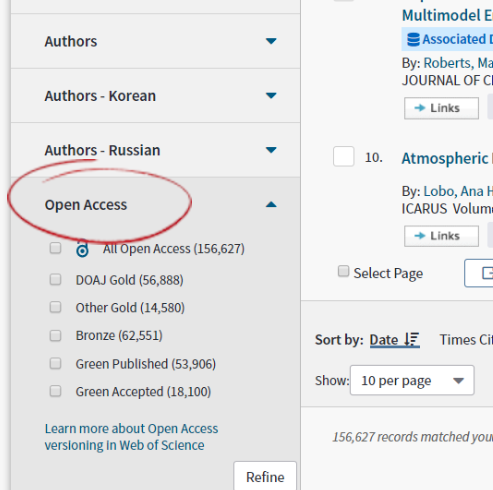 Web of Science: Once you do a search, click on Open Access at the top of the left-hand panel (1). If you want to look only for Gold, Bronze, or Green OA articles, scroll further down in the left-hand panel to find the Open Access filter group (2).
Google Scholar: When you search for articles in GS, it will automatically show OA copies of articles on the right-hand side of the search results. This includes access from agencies, publishers, and self-uploaded articles in repositories like ResearchGate.
Browser Extensions: There are two great Chrome extensions, EndNote Click and Unpaywall, that will show an icon in your browser window when an OA version of the article you're viewing is available.
---
Access Online Resources Beyond Library Subscriptions
Beyond subscriptions to eResources, the library provides ways for you to get access to online resources, including pay-per-view, open access tools, and interlibrary loan.
Pay-per-view (PPV), pre-paid transactions by the library, allow you to immediately access full text for our NOAA and NTIA customers. There is no limitation on PPV use by these customers. PPV is available for publications the library doesn't have subscriptions for through these publishers:
Elsevier (ScienceDirect) PPV: Above the article title, click on Get Access then Download PDF (1). You will need to log in with your Elsevier account (2). Then click on Continue for the PPV use confirmation (3).

Wiley PPV: When you click on the PDF link, a box will appear. Simply click on Use Token to access the PDF. Articles that PPV is available for will have a green Token Access icon above their title.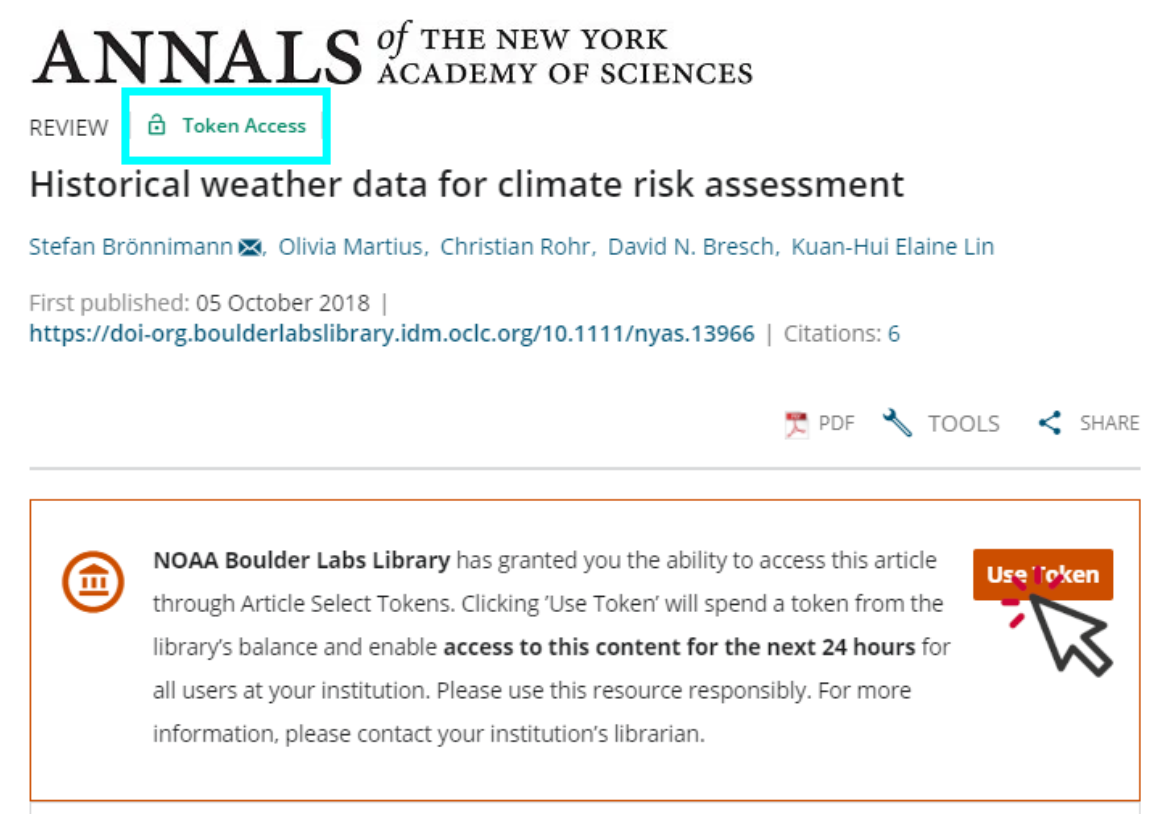 Taylor & Francis: Click on 1) "View Full Text", 2) "Get Access" under the article title, 3) then on the new screen that appears, click on "View". Finally, the article will have "Full Text" highlighted to indicate the full article has been accessed.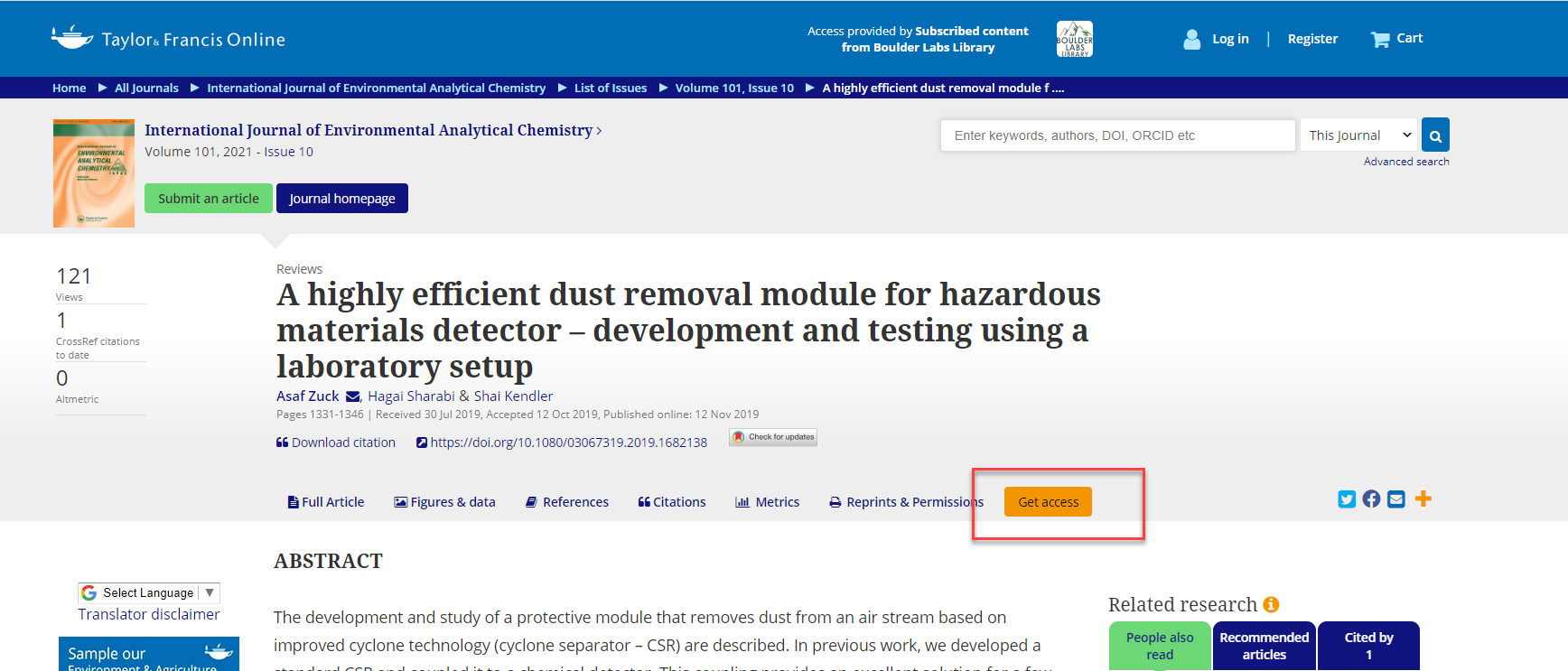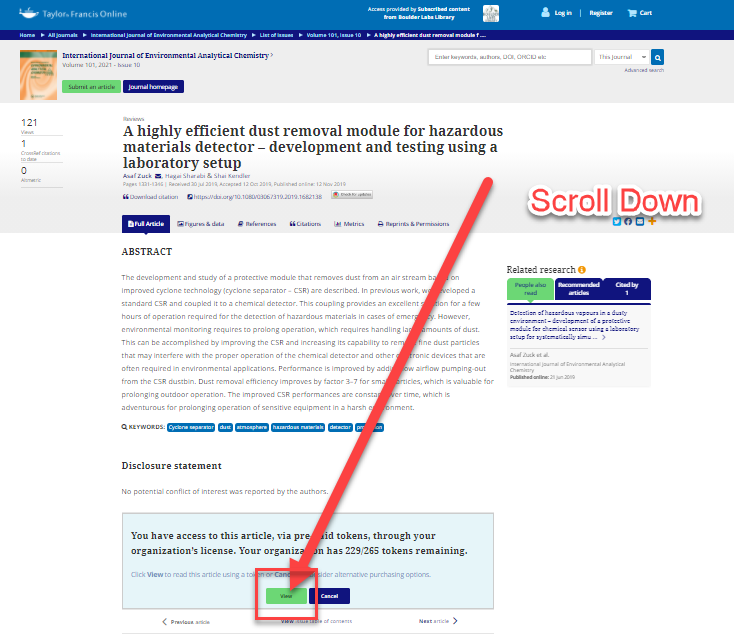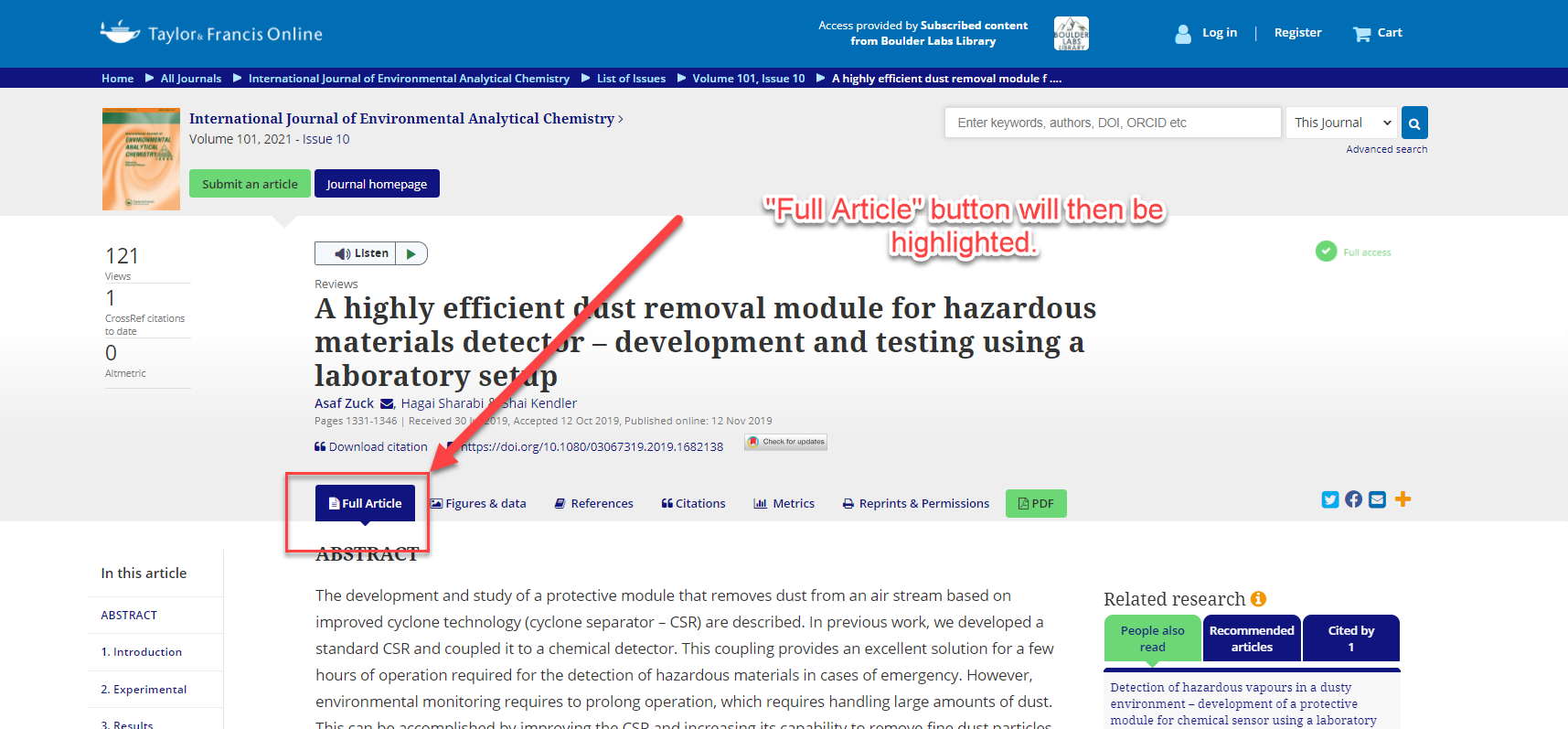 ACS (American Chemical Society): no special actions needed to redeem
Open Access Tools: There are many Open Access (OA) versions of article available from publishers, ArXiv, university institutional repositories, and more. To easily find these versions, look at the EndNote Click Chrome extension or the Unpaywall Chrome/Firefox extension.
Interlibrary Loan: The library can obtain electronic copies of articles, book chapters, and more from other libraries worldwide at no cost to you. Interlibrary Loan requests are typically filled within 2 business days or less. Watch the video below to learn how to help streamline your item's delivery.
---
Google Scholar (GS) Tools & Tricks
Link Boulder Labs Library to GS
You can add Boulder Labs Library (and other libraries) to your GS search. Once linked, GS will let you know if Boulder Labs Library owns a full-text version of the article that you are looking for. Linking Boulder Labs Library to your GS account is easy, all you have to do is go to the GS Menu, then Settings, then Library Links and search "Boulder Labs Library" in the search bar. Once the search icon is clicked, this will automatically add our library to your GS search.
Easy Access to Library Subscriptions in GS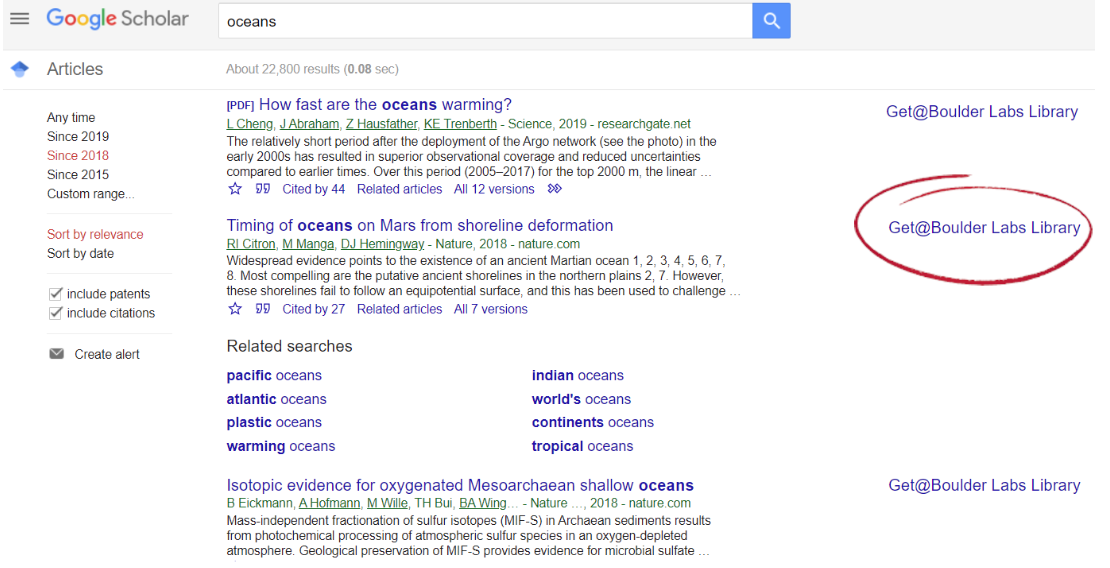 The Library subscribes to many specialized databases to assist with your research, but sometimes GS is the best tool for finding publications. Now the Library has made it easier to access subscribed, full text publications that you find through GS (for NOAA and NTIA staff).
When accessing GS on a desktop computer on campus, you will automatically be shown articles that the Library has subscription access to on the right-hand side (as in the picture - click on it for full-size rendering). Click on that Get@Boulder Labs Library link to go straight to the article.
Quickly Request Interlibrary Loans from GS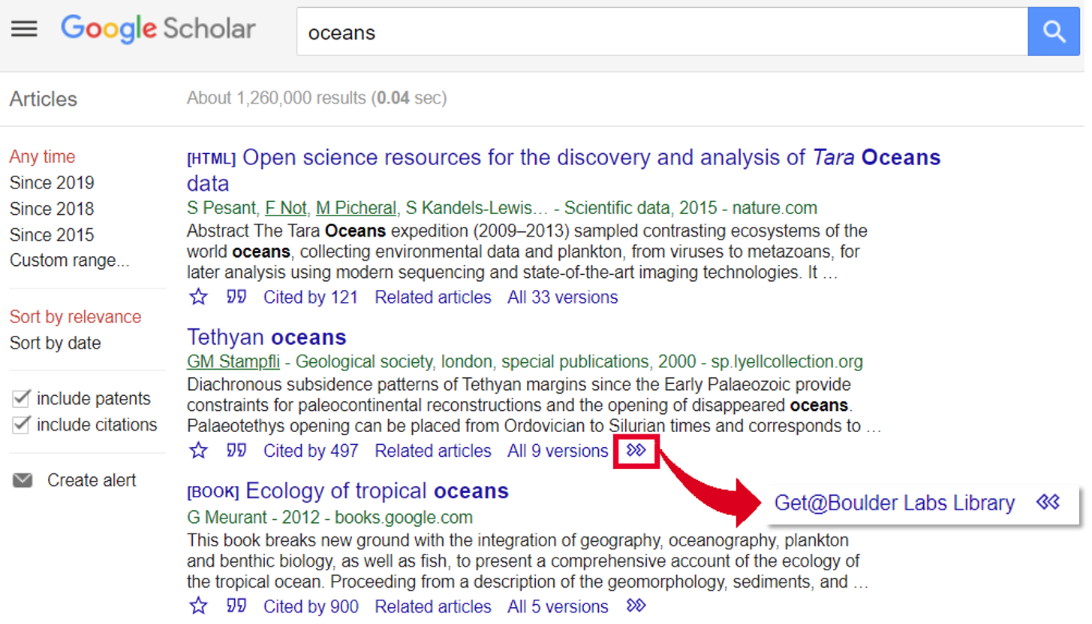 Learn how to access articles and books to which the Library does not subscribe via GS.
When in GS and the Get@Boulder Labs Library link does not appear on the right side of the screen, look for a double-arrow underneath the search result. Click on that, and a Get@Boulder Labs Library link should become visible. Once you click on the link, you will be taken to a "Find Full Text" page. This results page displays options for the book or article delivery method (e.g. from another library through interlibrary loan or from the Boulder Labs Library) and format (e.g. electronic or print). (Click on the image for full-size rendering.)
---
Current Issues in Scholarly Publishing, including Predatory Publishing
Tennant, J.P., et al explores 10 controversial or misunderstood topics in scholarly publishing; here are their findings:
Preprints: Contrary to a concern that preprints expose research to 'scooping', the authors find that preprints can protect against scooping by (1) establishing a time-stamp of publication, (2) facilitating rapid sharing and collaboration, and (3) providing a DOI, which allows more cites, faster--benefiting early career researchers.
Peer review: Following a discussion of strengths, weaknesses, and misperceptions of peer review, the authors propose a new model of open, author-directed peer review that would facilitate discussion and restore the culture of healthy skepticism that is a foundation of scientific research.
Copyright transfer: The authors suggest that current copyright transfer practices do not benefit authors and may be wrongfully acquired, given the complexities of author affiliations and funding sources. They call for a new copyright model that re-establishes copyright's fundamental intended purpose of protecting authors and furthering research.
Tennant, J.P., et al. 2019. Ten hot topics around scholarly publishing. Publications 7, 34; doi:10.3390/publications7020034
Predatory Publishing
Predatory publishers charge fees to publish your research, without delivering the professional review and editorial services promised. They use deceptive information (fake editorial boards, false statistics) to appear legitimate, while the real and only objective is profit. This is a risk to all researchers:
Your career and credibility if you publish in a predatory journal
NOAA's scientific integrity if it is associated with a predatory journal through a published article
Inability to publish your research in a legitimate journal after it has been presented in a predatory journal
Research funds, paying publishing fees without receiving legitimate service
Research funds, if your research is stigmatized by being presented in a predatory journal
Improper and incorrect research being presented as peer-reviewed science
This threat is real to NOAA scientists as some have already fallen victim to predatory publishing. Predatory publishing is not limited to journals--predatory conferences are now on the rise.
Articles on the Dangers of Predatory Publishing
Article #1: Severin, A. and N. Low. 2019. Readers beware! Predatory journals are infiltrating citation databases. International Journal of Public Health 64:1123:1124. doi: 10.1007/s00038-019-01284-3.
Because predatory journals were assumed not to be indexed in well-known academic search engines, it has also been assumed that their publications would rarely be cited by other scholars or applied in practice. Unfortunately, that is not the case:
Studies have shown that predatory journals have found their way into respected databases such as Web of Science, Scopus and PubMed
Researchers citing papers published in predatory journals may be relying on poor-quality, unethical or even fabricated findings
The presence of scientifically questionable papers increases the risk of citing and further spreading poor quality science, distorting the evidence base and influencing policy
Before citing a paper, authors should read the full publication and check that it comes from a reputable source.
Article #2: Moher, D., et al. 2017. Stop this waste of people, animals and money. Nature, 549:23-25. doi: 10.1038/549023a.
Common wisdom has assumed that the hazard of predatory publishing is restricted mainly to the developing world, but when Moher, et al. examined 2,000 biomedical articles from more than 200 journals thought likely to be predatory, they found that more than half of the corresponding authors were from high- and upper-middle-income countries.
Of the 17% of papers that named a funding source, the most frequently named funder was a US agency
The US produced more articles in the sample than all other countries except India
It is estimated that at least 18,000 funded biomedical-research studies are hidden in poorly indexed, scientifically questionable journals. Even if the research is sound, it is hard to find, and often too poorly reported to assess and build on the findings.
Article #3: Dadkhah, M., et al. 2017. Questionable papers in citation databases as an issue for literature review.J. Cell Commun. Signal. 11:181-185. doi: 10.1007/s12079-016-0370-6
In spite of growing awareness of the problem of predatory journals, questionable papers are showing up in citation databases and literature reviews.
Academic search engines and fee-based databases are not immune to including papers from questionable journals in their indexes. Predatory and questionable journals have been found in Web of Science and Scopus
Relying on papers from questionable journals can lead to unreliable science
WoS and Scopus use defined criteria for selecting journals to index, but Google Scholar does not; a far greater number of papers from predatory and questionable journals appear in GS than in fee-based databases.
Resources on Predatory Publishing
---
Web of Science (WoS) & EndNote Tools & Tricks
You can create a personal account for Web of Science roaming access from anywhere.
General Searching in WoS
Watch the tutorial on how to search the entire WoS Core Collection, using the 'All Fields' search option. You are able to combine key terms, author names, funder details and more in a single search box. This allows you to focus more on the results list, instead of the search query.
Additionally, in the WoS Core Collection, you can search for:
Science journals, conference papers, and books (with journals back to 1900) - Includes physics, chemistry, atmospheric science, and 175 other science and technology fields
Social science journals, conference papers, and books - Includes economics, management, environmental studies, green science, and 55 other social science fields
Emerging sources - Extends coverage to newly established journals and those not yet internationally recognized, such as Acta Geochimica
Chemical reactions - Includes two databases specially designed to search by chemical structure or reaction parameters
You also quickly search topics using the WoS Quick Search Google Chrome extension, you can search topics from over one billion cited references within the Web of Science database. To add the extension, go to your Google Chrome settings in your browser and select extensions. At the top of the screen, enter "Web of Science - Quick Search" in the search box and then select "Add". You should now see the Clarivate Analytics'™ (producer of WoS) logo at the top right of your Chrome browser.
WoS & EndNote Features
WoS citation report provides citation statistics for a set of search results, including h-index, total times cited (with and without self-cites), cites per year, and more. Analyze results helps you examine countries, organizations, journals, and more for a group of papers. Analyze results helps you answer questions such as:
What researchers in China have cited my work?
In which journals are my publications cited the most?
Which organizations are funding my area of research?
In order to organize your research, EndNote allows you to create personal reference/citation databases, provide print and output formats for supported publishers and journals, and search online databases and download citations. View some of the Clarivate videos below, in addition to the 90-minute July 14, 2020 recorded EndNote Webex training presented by NOAA Central Library.
Easily Export Several WoS Citations into Existing Citation List Using HTML & EndNote Formatting
Export existing citations to an EndNote library
Create email alert for all new citations
Choose EndNote formatting for the alert for simple import of the new citations into EndNote
Write custom EndNote HTML code that automatically adds HTML tags to the new citations (see the image)
This screenshot shows sample HTML coding for exporting citations into an EndNote library that has been taken from NOAA PSL's Century Reanalysis Project, a joint effort with CIRES to produce a comprehensive global atmospheric circulation dataset spanning the entire 20th century.
---
Additional Vendor Resources
IEEE Xplore provides full-text access to IEEE and IET transactions, journals, magazines, and conference proceedings published since 1988 plus select content back to 1952, and all published IEEE standards. The Library also has a subscription to the chemistry, environment, and engineering sections of the Journal of Visualized Experiments (JoVE). This is the only peer-reviewed, indexed journal whose articles consist of high-quality video demonstrations and detailed text protocols, promoting scientific reproducibility and productivity. JoVE releases an average of 150 video journal articles each month, reducing time to publish by 25% (6 months).
You can access ProQuest Ebooks at https://ebookcentral.proquest.com/lib/noaa/home.action from anywhere, as long as you are on a VPN. You do not need an account to download chapters, but you do need one to check out entire books and to save titles to read later. It is recommended to download individual chapters pdfs, since they can be kept indefinitely and require no additional software. However, if you want to read offline, most books can be checked out for a limited time using Adobe Digital Editions (when on a desktop). Per download or print limitations, individual chapters may usually be downloaded in PDF format. You are usually able to print 40% of the book, but this varies by book and is determined by the publisher. When downloading chapters, you will be limited to a percentage of the book each day, and cannot download all chapters at once.
---
Renew Library Books Online
Go to our library home page.
Click on "My Account" in the upper right of your screen.
Click on "Library Account Login."
Log in using your username and password. If you don't remember your login, ask a librarian.
Click on your name in the upper right of your screen.
Click on "My Account."
You should see a list of the items you have checked out. Click on "Renew" for the items you would like to renew.
If your book(s) will not renew, possible reasons include:
Your account has expired. A librarian needs to update your account with the current expiration date on your CAC.
You have renewed the books too many times. You are allowed to renew books up to 11 times, and then they must be returned. You can check them out again later.
You have too many overdue books. A librarian will need to override default system limits and renew the books for you.
---
Author Identifiers
Author identifiers can help you manage your publications list and increase your impact by making it easy for others to find your work. There are differences between ORCiD and Publons, the two widely-used author identifiers. View a couple of resources below:
---
Data in Publishing
Unique Cartogram Using Number of Documents Published
This cartogram created by Juan Pablo Alperin and Rodrigo Costas is a virtual map that visualizes publications proportional by count, as a proportion of GDP, and as a proportion of population. The map uses publication data from Scopus and population and GDP data from the World Bank. The number of U.S. publications shrinks greatly once per capita and GDP are layered. Because the cartogram is powered by d3.js, you can interact with the map by selecting a year (1997, 2007, 2017) and hovering over each country to discover the exact counts. Try it out today!

Difficulty in Tracking Open Research Datasets
A recent article written by Lizzie Gadd & Gareth Cole of Loughborough University in the U.K. covers the issues measuring open research data, which include the following challenges:
Equivalence: Lack of standardization of what qualifies as a single unit of data
Source: Tracking down the various locations of the data repositories
Authorship: No assurance that all of the data creators are associated to the metadata record
Quality assurance: No peer review process
---
Additional eResources from Local Libraries
To augment the resources from Boulder Labs Library, please see these local library eResources below. Please note that various libraries may provide the same resources. For example, all libraries provide you access to the Front Range Downloadable Library via Overdrive and New York Times; and most libraries have access to AudioBookCloud, Consumer Reports, and RBDigital. Please contact these local libraries, if you have any questions about these resources.
---